Show Dad how much you love him with this clean eating Fathers Day menu!
It's time to celebrate dads everywhere! And what better way to show them you love them then buy making a meal that is not only healthy, but totally delicious and dude – approved!
The truth is, I know a good dad when I see one, and really believe that a good dad needs to be celebrated in our society.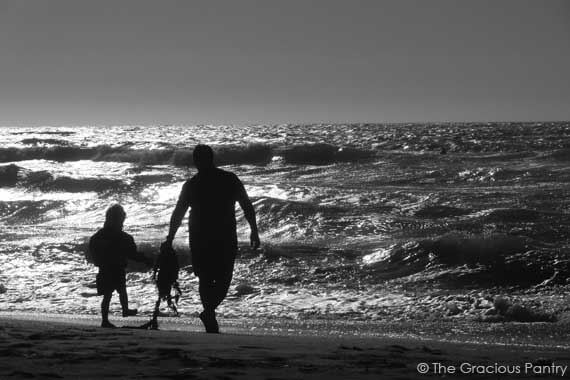 My father was never around when I was growing up, and by the time I got to know him, it was far too late for any real type of relationship. But watching Mini Chef with his dad, despite our differences, makes me so happy that there really are good father's out there, and that my son has one of them in his life. A good man who raises his kids, connects with them and protects them as they grow is such a critical component of childhood. There are lessons that only a father can teach and I'm grateful every day that the father of my child really goes the extra mile to be a good dad, even if we aren't together anymore as a couple. And because of that, I do everything I can to make this day special and personal for him.
Last year, I framed some black and white photos that I had taken of him and Mini Chef at the beach years before, one of them pictured above. They were beautiful and meaningful and they were the perfect gift. This year, I'm a little more stumped. But Mini Chef painted something special for him and I'm hoping that I can find another way to commemorate the relationship between them.
If you're trying to figure out what to give for father's day, just remember to keep it personal.  To celebrate the real reason for the day and then top it off with some tasty food. You can't go wrong!

CLEAN EATING FATHERS DAY MENU:
BURGERS
SANDWICHES
SIT DOWN MEALS
FINGER FOODS
DESSERT