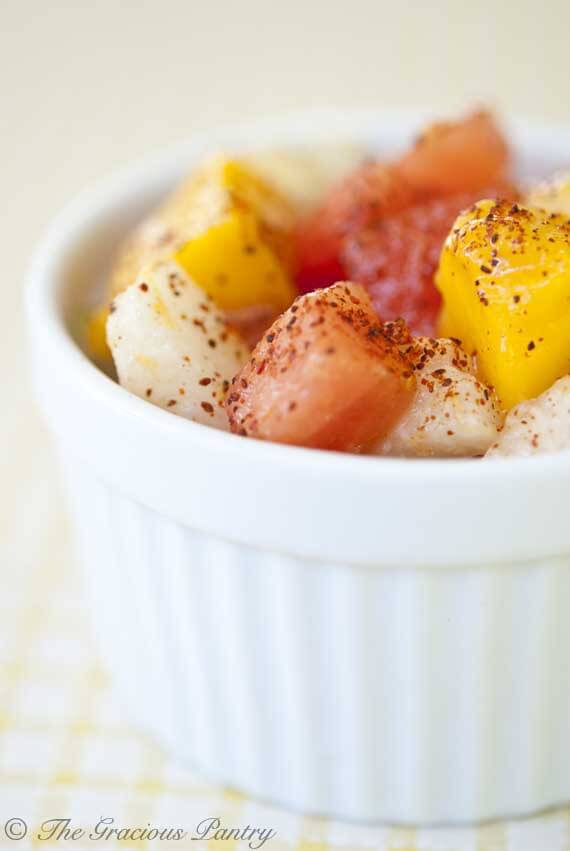 One of my best friends brought me a bowl of this. I knew the second I took my first taste that I had to share this recipe with you.
In Mexico, this can be served a few different ways. But according to my friend, this way is pretty traditional. And I'm a sucker for tradition.
If you're trying to beat the heat this summer, this fruit and veggie salad will cool you down amazingly well and you'll be getting a bowl full of good-for-you nutrients to boot. How can you top that??
And while you should add the chili powder to taste, don't skimp on it either. It really makes the recipe. Keep everything in relatively equal amounts and cut small. Delicioso!
YOU MIGHT ALSO ENJOY:

Clean Eating Ensalada De Fruta
Ingredients:
Equal Amounts Of:
Mango
Watermelon
Cucumber
Jicama
Oranges OR pineapple
Lime juice
Chili powder
Salt to taste
Directions:
Cut all fruits and veggies up into small chunks. Texture really is a part of this meal. Large chunks will make it less enjoyable.
Stir all ingredients together in a large mixing bowl, tasting as you flavor with the lime juice, chili powder and salt.