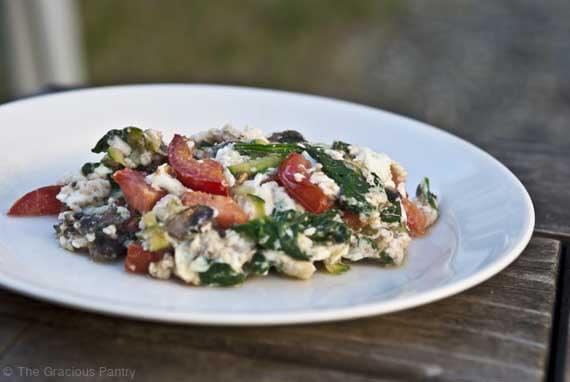 As with oatmeal, eggs can get kind boring, kinda quickly. But as with oatmeal, the possibilities are pretty endless when it comes to additions and flavorings.
This recipe came from a desperate attempt to feed Mini Chef one morning when I just had a small amount of produce and some eggs to get creative with. He topped his off with a little tomato sauce, but parmesan cheese works well too.

Clean Eating Egg White Veggie Omelet
(Makes 1 serving)
Ingredients:
4 egg whites
1 cup raw spinach
1/2 small onion, chopped
2 cloves garlic, chopped
1/4 cup grated zucchini
1 roma tomato, chopped
1/2 cup sliced crimini mushrooms
2 teaspoon olive oil
1/4 cup grated parmesan cheese (optional)
Directions:
Put the olive oil in a large frying pan and warm pan over low to medium heat.
Add the spinach, onion, garlic, zucchini and mushrooms. Stir continuously. If you keep the heat low, you shouldn't need any more oil.
When the mushrooms have wilted, stir in the eggs and scramble them with the veggies.
When the eggs are cooked, quickly add the parmesan, scramble briefly to distribute and then form into an omelette.
Place Omelet on plate and top with tomatoes.