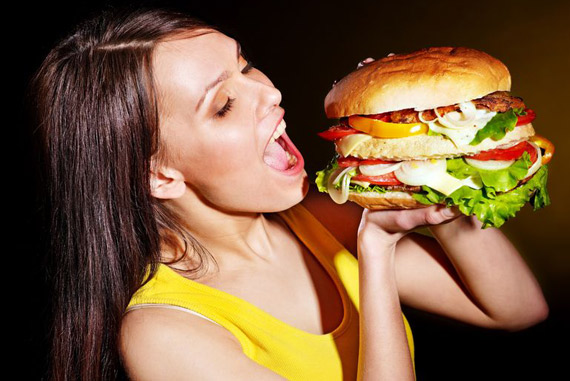 Today's post is meant to help those of you who feel you could never truly survive on the smaller meals that many Clean Eaters enjoy. Grant it, we often eat 5 to 6 of them per day, but the meals are definitely tiny, at least in my experience. I've heard some folks say they could never make it through their days on those tiny meals of just meat, veggies and maybe some brown rice.
When I co-authored my first cookbook, the largest reaction we got was that the serving sizes were too small. "Nobody eats just a 1/2 a cup of something!!". People were upset because they felt we were manipulating the nutrition data so it would seem "healthier" by making the portion sizes smaller. Not explaining why we used smaller serving sizes was a gross oversight on our part and we ended up having to do some damage control so the sales of our book wouldn't completely tank. The general public just does not understand the general concepts of Clean Eating and smaller meals.
SMALLER MEALS
The basic idea with eating 5 to 6 smaller meals is to keep your caloric intake within a healthy (and filling) range, but to spread the meals out into smaller, more frequent portions. So you aren't actually eating less, just more frequently. There are many that would argue whether this is a good idea or not, but for many Clean Eaters, that's how it's done.
THE TRIP
Many of you know that I recently took a trip to Canada. It was a press tour for the Canadian Maple Federation, so everything we did and saw revolved around maple. It was an amazing trip on many levels.
But one "level", if you will, really stood out to me. But not because of maple, or Canada, or anything else about the wonderful country or what it had to offer. This had to do with the meals we were served. Not the food itself, but rather HOW it was served to us.
You see, the gourmet meals we enjoyed were served in traditional, French gourmet style. Meaning, multiple courses. Four to six of them, depending on the chef and restaurant.
Now, I've heard people here in the states who have visited local French restaurants complain that they paid a lot of money for very little food. Many have said that they had to go home and eat dinner after eating dinner (no, that's not a typo). The point being that each course, regardless of how many courses there are, have what many Americans consider to be extra small portions. Not really enough to fill you up.
When our dinner courses began being served, it was not uncommon for the first course to be a very tiny piece of something just to wet your appetite. At one meal I recall, it was literally a 1/4 inch square piece of salmon with a dot of yogurt sauce next to it. It was meant to be one bite, and one, full course.
Now, most Americans would laugh at that amount of food. Even for a first course. I mean, when Americans order a first course, it's usually a basket of cheese sticks, plus all-you-can-eat buffalo wings and maybe some zucchini sticks on top of that with ranch dip in deep-fried, humongous helpings. Truly a meal for five all by itself.
THE LESSON
But I learned something very important from those tiny French courses. Something that will hopefully stay with me the rest of my life. I learned that if you really and truly slow down, taking the time to chew each bite and really savor the flavors and textures in your mouth, you actually do fill up on MUCH less food.
Now, I know you've probably heard this before, it's not a new concept. I know I've heard it a dozen times at least over the course of my life. Slowing down your pace of eating will help your brain tell your tummy when it's truly full. I've also heard that age-old wisdom about chewing each bite of food at least 30 times before you swallow it. These are all tactics to help you generally slow the pace of eating in order to better digest your food and actually notice when you are truly full.
Many Americans eat as fast as they can until they literally cannot take another bite. They walk away from the dinner table feeling like they have bricks in their belly, and frankly, they usually have eaten enough food to equal a brick's weight!
TIME TO EAT
Most people will laugh when I say that dinner took up to 2 hours each night. And that's not because the courses took a long time to come out of the kitchen. The pace of those dinners was expertly executed and perfectly timed. The real reason it took so long was because we were actually eating very slowly, enjoying our food and having lengthy conversations about the world and everything we were experiencing. It reminded me a lot of dinners I enjoyed in Italy where dinner was meant to be far more than just food, it was meant to be an experience. And that's exactly what it was, an amazing experience.
2 HOUR MEALS???!!! NO WAY!!!
But that got me to thinking. Very few of us can afford to invest 2 hours into our evening meals, much less breakfast or lunch. In our hecticly-paced, American lives, we are often lucky if we can fit in a meal of coffee during our morning commute to work. We actually will often finish huge meals from a drive-thru on the way home from work, or gorge ourselves at the dinner table because we didn't get a chance to eat all day long. We are truly all over the map when it comes to how much we eat and when. And my non-medical opinion tells me that sadly, it's not very healthy for us to eat that way.
HOW DO YOU MAKE THIS WORK FOR YOU ON A BUSY SCHEDULE?
So then the question becomes, how do we slow down enough during meal times to actually taste our food while still having time to get it all done? I know for me, dinner time is often hectic with one of the three of us constantly getting up for something or remembering something that has to be done RIGHT NOW, before we can finish dinner.
Once I got back from Canada, I picked apart our meal times here at home. I noticed how Mini Chef shoveled his food into his mouth, packing it as full as he could at each bite, while I was eating as fast as I could, barely chewing or giving myself time to even taste what I had cooked. I inhaled my food and always finished before everyone else at the table. I often joked I could beat anybody in an eating contest. But after experiencing a slower meal, it just wasn't a joke any longer. It was a wakeup call.
So these days, I make it a point to not finish before anybody else at the table. I cut my bites to half or even a quarter of the bite I would usually have taken, and I savor it. And no, it doesn't take us 2 hours to eat a meal. But my 3 minute dinners have become about 30 minutes on average. That's a big change, and is doable for most people in the evenings. In fact, something pretty counter-intuitive happened when I slowed down my meals. I found that when I made time to eat dinner, I suddenly had the time to enjoy it. Simply slowing down my meals actually created time where I didn't think I had any to spare.
GIVE IT A TRY
So if you really believe you can't survive on smaller meals, try slowing things down a bit. Try actually chewing your food and making your 30 minute lunch last for 25 minutes and see how you feel. See how much food you actually need. Because I can pretty much promise you that you will feel full before your food is gone if you truly take the time to chew it, taste it and experience it.
Lastly, when you eat, notice things like your posture and your stress levels. Make a conscious effort to lower your shoulders, breath a little slower, and appreciate the food you have in front of you. It's truly amazing how all those little things add up to feeling full on much less food. You'll see.