Clean Eating Easy Thanksgiving Turkey With Cranberry Apple Glaze Recipe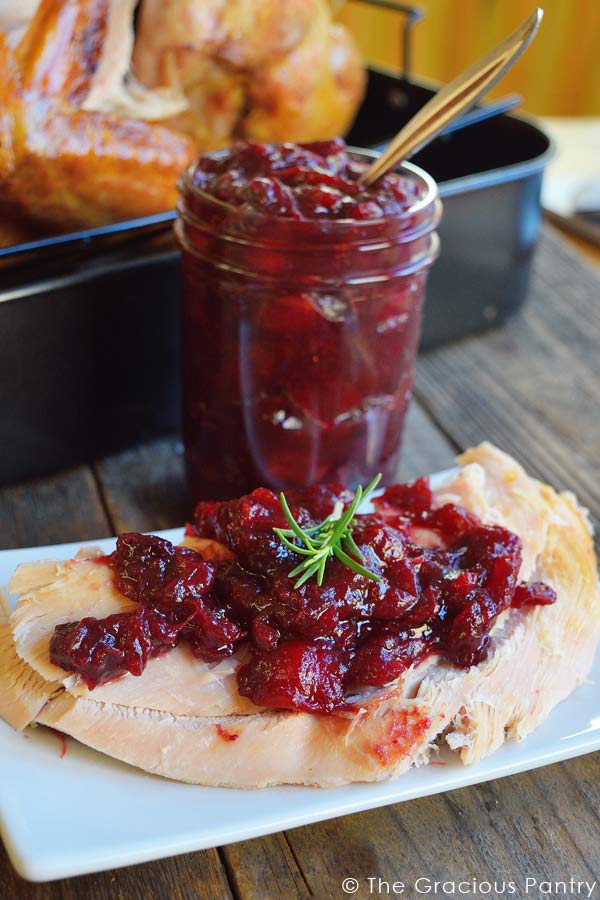 This post brought to you in collaboration with Diestel.
All opinions are my own.
If you want a quick and easy way to make your thanksgiving turkey this year, I've got just the bird for you!
As many of you know, I'm in the midst of moving at the moment. If it wasn't for make-ahead and quick/easy recipes, this holiday would not be happening this month for me or Mini Chef.
Thanks to the fine folks at Diestel Family Turkey Ranch, my holiday bird will be the easiest part of the meal this year! I'll just warm up the pre-cooked Organic Oven Roasted Whole Turkey for a couple of hours and top with my glaze recipe below. Why am I just now finding out about pre-cooked birds??? I mean, talk about a stress-free holiday. Where has this been all my life???!!!
And better yet is the quality of these turkeys. Sustainably farmed/raised, these birds truly have flavor unlike any turkey I've had in years past. This will be my second year in a row with a Diestel turkey, and I couldn't be happier about it! Everyone at my table last year raved about how much wonderful flavor it had and how moist it was. And now, to top it off, they've done the cooking for me!!! This could very well be some sort of holiday miracle.
If you don't know about Diestel yet, let me introduce you!
One of the last small, family-owned turkey grower-processors in the U.S., Diestel turkeys are slow grown in a natural environment, thoughtfully raised almost twice as long and given three times as much space as conventional birds, and fed a 100% vegetarian diet of premium grains. Milled daily on the ranch, Diestel's feed is completely free of antibiotics, growth enhancers, hormones, gluten, animal by-products and DDG's (dried distillers grains). The Diestel Turkey Ranch recently received Non-GMO Project Verification for their Natural, Organic and Heirloom Collection, and the Global Animal Partnership (GAP) awarded Diestel's pasture-raised birds its highest 5+ rating.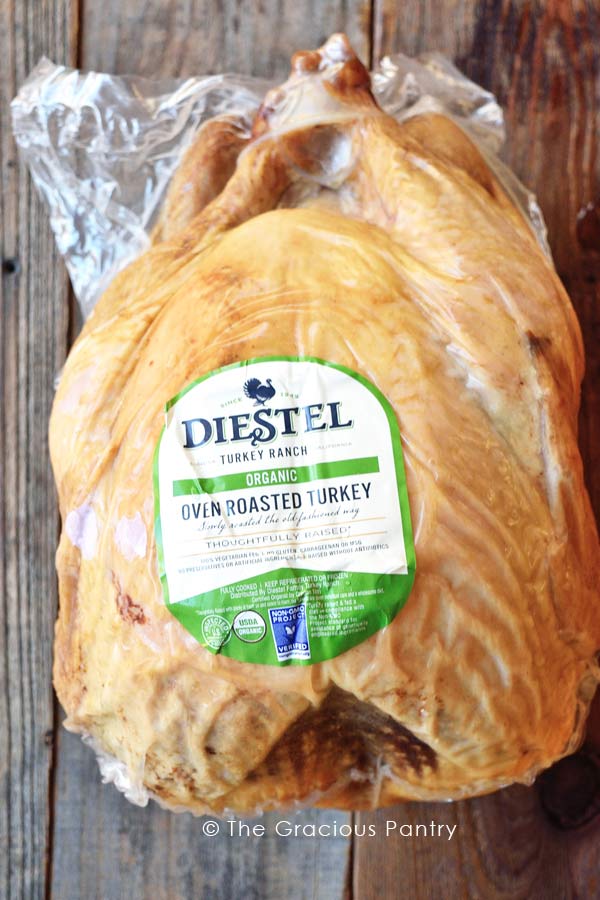 Personally, I like knowing where my food comes from and how it is raised and I know a lot of you do too. I also like using my hard-earned dollars to support a small, sustainable business, particularly during the holidays. This family actually mills all its own feed instead of giving the birds processed pellets so that the nutrients in their food isn't broken down. (Clean eating turkey feed!!) They also compost all waste, feathers, cardboard, paper and wood chippings. They then donate that compost to a dozen school gardens in their local community. Yep, I feel pretty good about supporting these fourth generation turkey farmers!
And if you don't have a store locally that sells these turkeys, don't fret! You can order your bird from their new online store! Check it out here.
The specific turkey I enjoyed can be found here. Until November 17th, you can type in GRACIOUS12 to receive $12 off your turkey order!
And pssst!!! The glaze turned out delicious!!!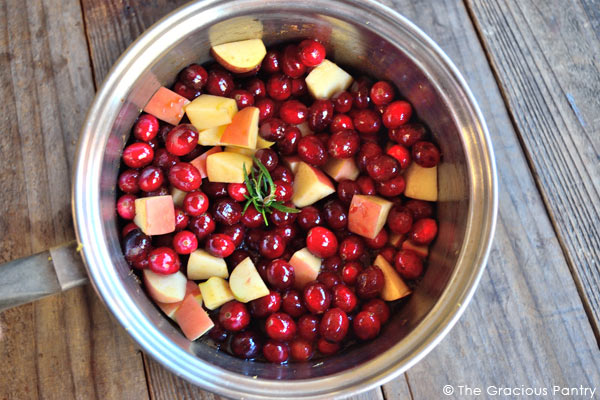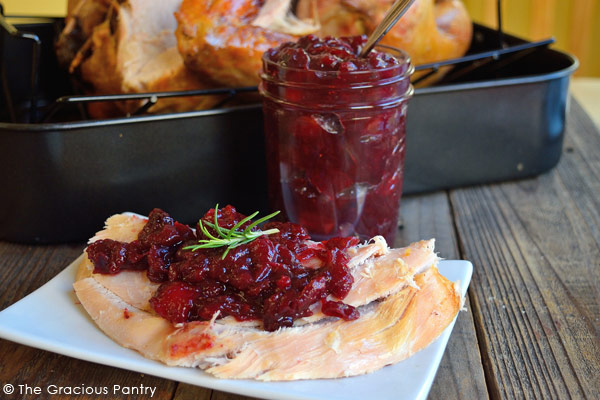 YOU MIGHT ALSO ENJOY:

Clean Eating Easy Thanksgiving Turkey With Cranberry Apple Glaze Recipe
Author:
Ingredients
1 lb. fresh cranberries, rinsed
1 large apple, chopped
3/4 cup honey
1 lemon, juice and zest
2 tsp. balsamic vinegar
1 tsp. ground cinnamon
1/4 tsp. ground, black pepper
1 small sprig fresh rosemary, approximately half the size of your thumb
Instructions
In a medium pot, bring all ingredients to a boil and then immediately reduce heat to a low simmer.
Continue to simmer for approximately 45 minutes or until the mixture has reduced by about half.
Serve warm over turkey!