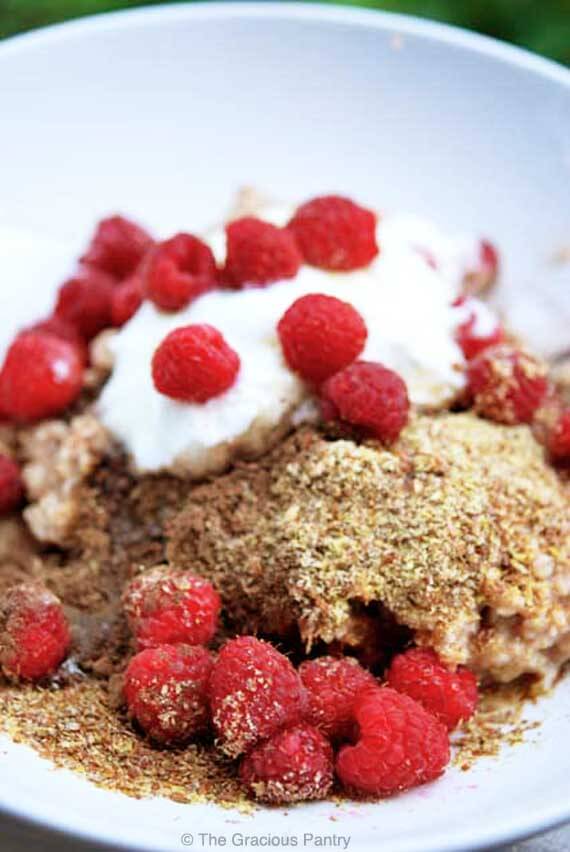 If you're looking for a new way to prepare your oatmeal, look no further.
I've been working on something called, "The Oatmeal Project".  I'm trying to come up with 365 different ways to prepare and enjoy your oatmeal in the morning.
I mean, let's face it. Oatmeal is pretty much the perfect breakfast food. With the right toppings, you really can't get more nutritious.
In the comments of that post, I read a suggestion from a reader, Karen M.
While I didn't follow her measurements exactly, this is definitely her recipe I'm sharing with you today. It has also been entered into The Oatmeal Project because, as my 2-year-old would say, "It's deeeelicious!"
Thanks Karen!
Note: To balance out the carb/protein ratio a bit, you can mix in 1 scoop (usually 1/4 cup) of plain or vanilla whey protein powder).
YOU MIGHT ALSO ENJOY:

Clean Eating Dark Cocoa Raspberry Oatmeal
(Makes 1 serving)
Ingredients:
1 cup cooked oats
2 tablespoons ground flax seed
1-2 teaspoons dark cocoa powder
1/2 cup raspberries
1/3 cup Greek yogurt (non fat)
1 tablespoon honey
Directions:
Combine all ingredients in a bowl. Stir well and serve.