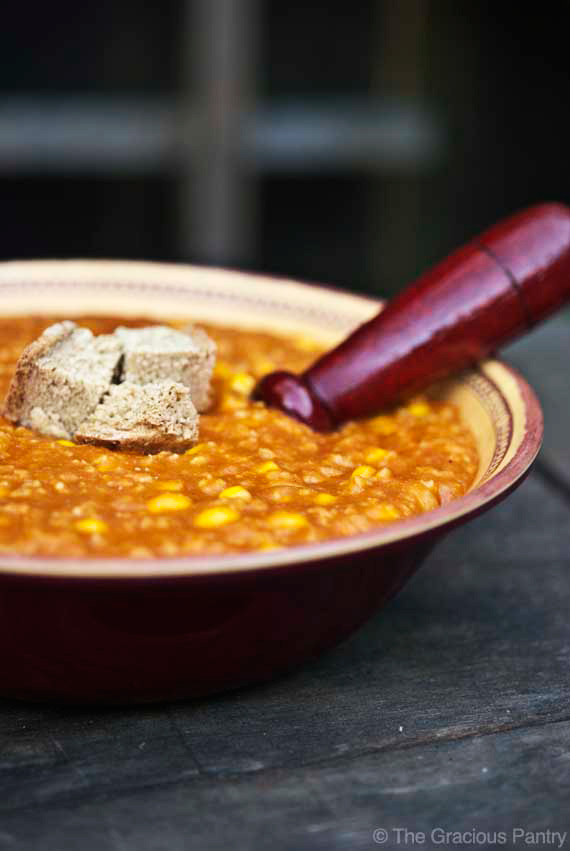 There are very few things about my old eating habits that I miss. For the most part, I'm completely converted to clean eating. But on occasion, I get a hankering for Indian food at my favorite Indian restaurant, and believe me, It ain't clean!
But one thing I've learned by writing this blog is that with most foods, there is a clean substitute. It may not match exactly, but there IS a substitute. And once your taste buds have adjusted from chemical crud to healthy, nutritious meals, it's amazing how many of those substitutes really do taste good!
And just as a side note, my husband does not eat clean (except what he eats from my cooking), and even he enjoyed this. Mini Chef, on the other hand, was not a fan. But that's okay. I'm working on him. He should be a gourmand by the time he's 5.
YOU MIGHT ALSO ENJOY:

Clean Eating Curried Millet
(Makes approximately 5 quarts)
Ingredients:
1 pound frozen, organic corn
8 cups vegetable stock, low sodium and no sugar added
1 cup dry millet
1 cup dry garbanzo beans
1 (15 ounce) can tomato sauce, no sugar added
1 (15 ounce) can light coconut milk
2 tablespoons garlic powder
2 tablespoons onion powder
1 tablespoon curry powder
1 cup water (optional)
Directions:
Place all ingredients in a slow cooker and cook on high (if you'll be home to watch it) for 6-8 hours. Or cook on low for 8-10 if you won't be home to watch it.
If the soup has thickened too much, add 1 cup of water and stir to combine. Continue adding water, 1 cup at a time until you get the consistency you want. Just keep in mind that this is meant to be a thicker soup.
Note: Slow cookers will vary. Adjust cooking times accordingly. Soup is finished when beans are cooked.