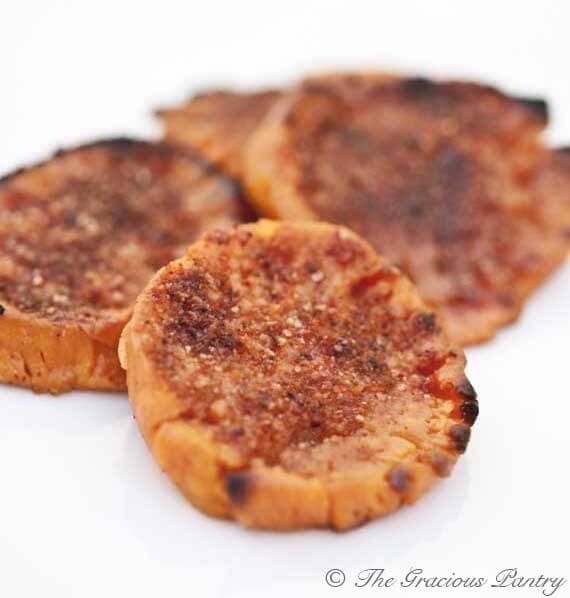 A while back, a reader emailed me asking if I could clean up this recipe.
As many of you know, I'm not a sweet potato fan. So it took me a while to get to the point that I was willing to give this a go.
While it was just so-so for me, everyone else in the house just loved it. So I know you sweet potato fans out there will love it too.
YOU MIGHT ALSO ENJOY:

Clean Eating Crash Hot Sweet Potatoes
(Makes 2 servings)
Ingredients:
3 small sweet potatoes, peeled
1/2 teaspoon ground cumin
1/2 teaspoon chili powder
1/2 teaspoon paprika
1/2 teaspoon onion powder
1/4 teaspoon garlic powder
1/4 teaspoon cayenne (optional)
1 & 1/2 tablespoons honey + 1/2 tablespoon molasses (optional)
Directions:
Boil the potatoes until they are soft, then drain. Slice them about 3/4 inch thick.
Place the slices on a parchment lined cookie sheet. Using the bottom side of a glass, smash the slices to about 1/2 inch thickness. Enough to fray the edges completely. The potatoes will stick to the glass, so don't lift up after smashing. Simply slide the glass off to the side.
In a small mixing bowl, blend the spices together, then sprinkle a small amount onto each slice.
Drizzle some honey over the top of each (if using honey) and broil for about 10 minutes, or until the edges are nice and brown.