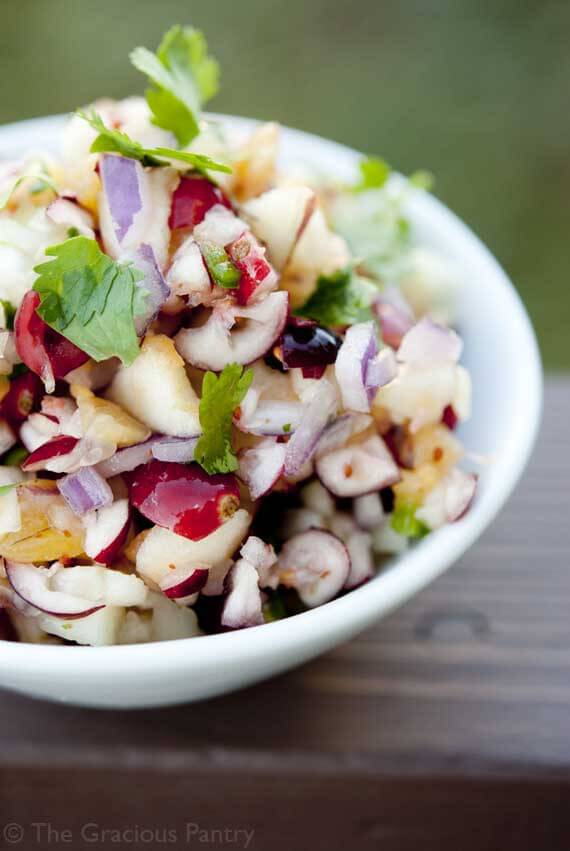 Oh my. This is just so delicious and refreshing! Perfect for a holiday part or gathering.
I simply adore cranberries. Any way I can get them, I'm a happy girl. What I like best about this salsa is that the pineapple and apple takes off just enough of the sourness from the cranberries, without making the whole thing really sweet. It's a really nice balance of sweet and sour. Add to that a little kick from the onions and jalapeno and you've got yourself one very tasty snack or appetizer!
The wheels are already turning for other recipes I can make with this. Shrimp, fish, chicken…. the list could be endless. In fact, I think even some muffins might be good with this! Oh dear, I better simmer down. I'm a little overexcited about this. But can you blame me? IT'S CRANBERRIES!!!!! And I do LOOOOOVE cranberries. (In case I didn't mention it before….)
YOU MIGHT ALSO ENJOY:

Clean Eating Cranberry Salsa
Ingredients:
1 cup chopped fine, fresh cranberries
1 cup chopped fine, frozen pineapple (fresh works, but frozen is easier to chop)
1/2 cup chopped fine, apple
1/2 cup chopped fine, cucumber
1/2 cup chopped fine, red onion
1/2 chopped fine jalapeno pepper
1/4 cup chopped, fresh cilantro
Salt to taste
Splash of fresh squeezed orange juice (optional)
Directions:
Chop everything as fine as you can get it and mix it all together! Server with organic corn chips or even shrimp! Works great as a simple side dish too.