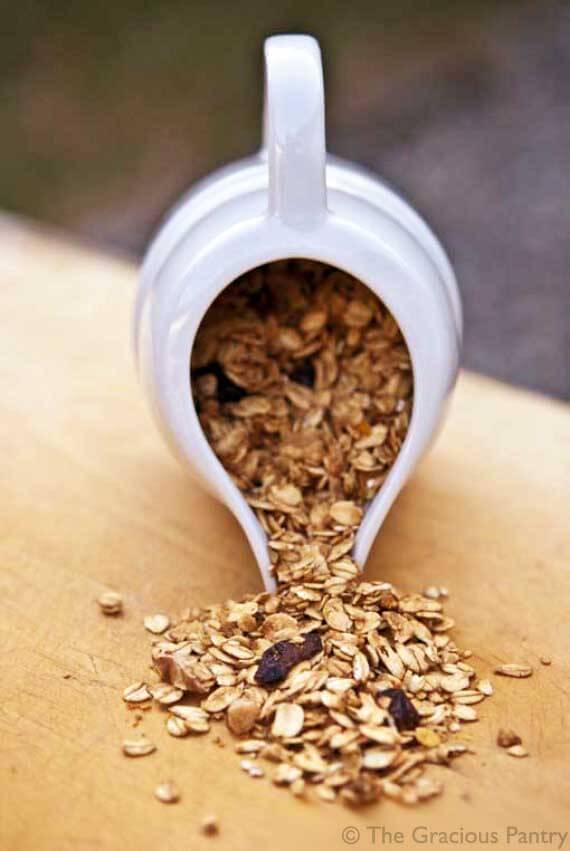 If you read this blog with any regularity, you probably know that I struggle with breakfast. It's just so hard to keep breakfast interesting. But thankfully, my mornings just got a little better…
I thought I'd try out a new granola recipe since I haven't done one in a while. Holy moly! I've been eating this stuff for breakfast every morning and I show no signs of getting sick of it. And Mini Chef isn't complaining either. He's not much of a cold cereal kinda guy, but when he sees me eating a bowl of this, he's "johnny on the spot" for a spoonful out of my bowl. And I can feel really good about giving it to him too. In fact, I think that's what I love about clean eating the most. I can give Mini Chef just about anything and feel confident doing it. Such a great feeling, especially when your day is just getting started.
I will say that this breakfast should be more of a treat meal in my humble opinion, and I will need to back off of it a bit if my weight loss is to continue. But on the other hand, if you get the majority of your fats in the morning, you then have all day to work it off. So in that respect, it's a win-win. But either way, I hope you enjoy it as much as we do.
YOU MIGHT ALSO ENJOY:

Clean Eating Cranberry Maple Granola
(Makes approximately 3 cups)
Ingredients:
1/2 cup chopped walnuts or walnut pieces
1/2 cup dried cranberries, fruit juice sweetened is best
2 cups rolled oats
zest of 1 small orange
1/2 teaspoon ground ginger or 1/2 inch thick slice of fresh ginger grated on a microplane
2 tablespoon pure maple syrup
1 teaspoon virgin coconut oil (virgin seems to have a lighter flavor, but regular will work. Other light flavored oils will work as well)
Directions:
Mix all ingredients together in a medium sized mixing bowl and spread out on an ungreased cooking sheet.
Bake at 300 F. for 30 minutes or until golden brown.
Allow to cool and store in an air tight container or ziplock bag.