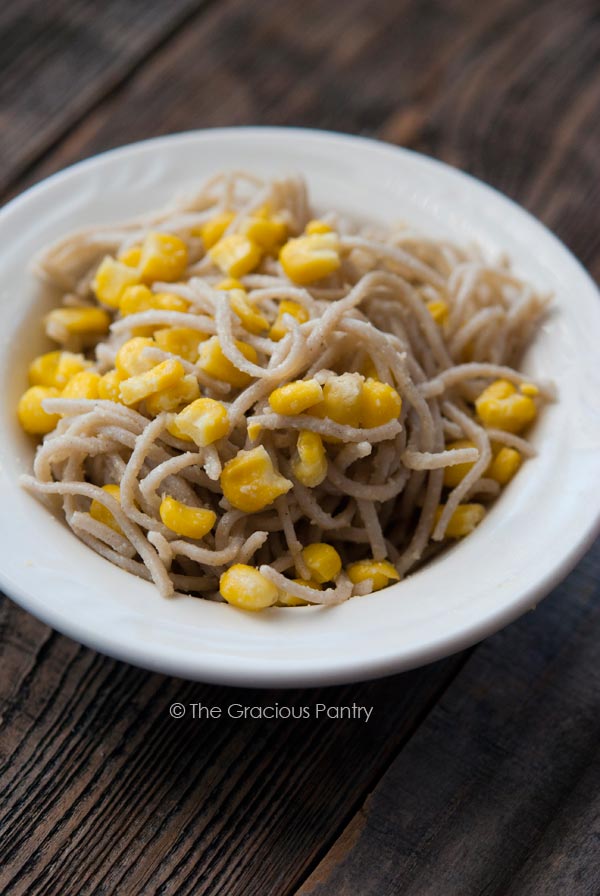 If you have kids or keep a very busy schedule, you'll want to tuck this Clean Eating Corn And Parmesan Soba Noodles recipe into your back pocket.
This is currently my go-to dinner for Mini Chef. Thursdays always seem to find us getting home late. So while Mini Chef takes a bath, I get this dinner on the stove and have it done before he is finished.
It's a nice, easy meal that kids (of all ages!) will love. And parents will love it too because it cooks up so quickly! The reason for this is that Soba noodles don't require the same longer cooking times of regular pasta. In fact, the type I get cooks in just 4 minutes!
This one pot meal is a great way to end the evening and you can stir in any type of protein you like. It's great with both chicken or shrimp. I've tried it both ways and Mini Chef loved it too. But plain is always a beloved version of this dish around here as well. So get a little creative if you like, or just stick to the plan. Either way, it's a quick, delicious meal!
YOU MIGHT ALSO ENJOY:

Clean Eating Corn And Parmesan Soba Noodles
Author:
Ingredients
1 bundle 100% whole grain soba noodles
1/2 lb. frozen, organic corn
3 tbsp. grass-fed butter, or more for taste and texture
1/4 cup grated parmesan cheese
1 tbsp. garlic powder
Instructions
Cook the noodles to package directions and include the corn so they cook together.
Once the pasta is done, drain and return to pot.
Stir in butter so it melts and then add then allow to cool slightly before adding the parmesan. Serve.