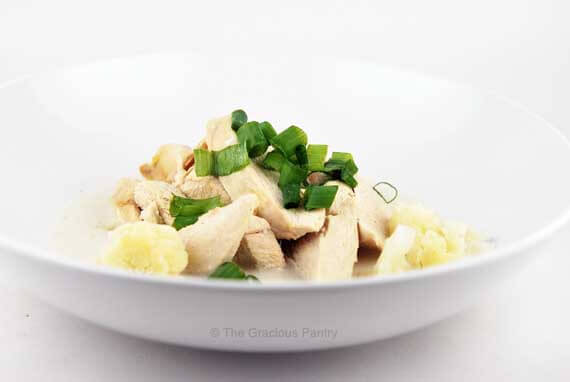 There's just something about the combination of coconut milk and chicken that I love.
I'm not a big chicken fan (or a big meat fan in general), but since I need to get more protein into my diet, I have to find ways of making it taste good.
And this…. definitely tastes good!
This recipe was inspired by the South Beach Diet. I have several (okay… all!) of their cookbooks. Many of their recipes fall under clean eating. The recipe that inspired me had an ingredient list that was way to long, with ingredients I didn't have. So I improvised.
And I just have to say that this was so good, I didn't even share any with my husband. Bad, I know. But that's life. He'll live.
YOU MIGHT ALSO ENJOY:

Clean Eating Coconut Cauliflower Chicken With Green Onions
(Makes 4 servings)
Ingredients:
1 (15 ounce) can light coconut milk
2 chicken breasts (about 7 ounces each)
1 medium head cauliflower
1 teaspoon garlic powder
1 teaspoon onion powder
1 teaspoon cumin
2-4 green onions
Directions:
Clean your cauliflower and steam it in a large pot.
Slice your chicken breasts into thin strips.
Place all ingredients (except the green onions) in a second pot and bring to a boil over medium-high heat. But don't let it boil too hard, or it will burn. Just a nice medium boil will do.
Using a meat thermometer, test your chicken when it looks done. It's finished cooking when it reaches 170 degrees F.
Ladle into bowls, add as much cauliflower as you like, top with green onions and serve.