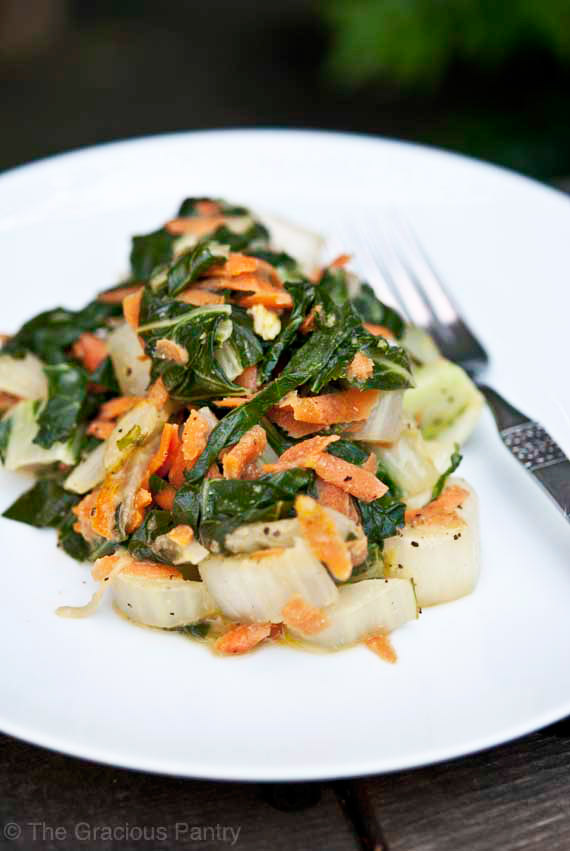 I love bok choy. If it's prepared correctly, it's nothing short of fabulous. Quite possibly, my favorite veggie ever. Next to cauliflower, of course. Plus, bok choy is just so darned versatile! There's really nothing you can't do with it.
Case in point: This recipe.
It's quick, easy, and bursting with flavor. It will pair well with just about anything, but especially chicken. Even a nice bean dish would go well with this. The sky is the limit with bok choy!
It's pretty darned nutritious stuff too. So fill your veggie quote for the day with this side dish! Remember, if you fill up with 2 cups of veggies before anything else at dinner, you'll feel full much sooner and save some of those precious calories for something else!
YOU MIGHT ALSO ENJOY:

Clean Eating Coconut Bok Choy
(Makes 4 servings)
Ingredients:
1 large bok choy, chopped
2 medium carrots, shredded
1 tablespoon olive oil
1/2 cup light coconut milk
2 teaspoons garlic powder
1 teaspoon black pepper
Directions:
Sauté the bok choy in the olive oil until it wilts (about 10 minutes).
Add all other ingredients and stir until well combined and the coconut milk is more of a glaze than a sauce.
Note: This is great served with chicken!