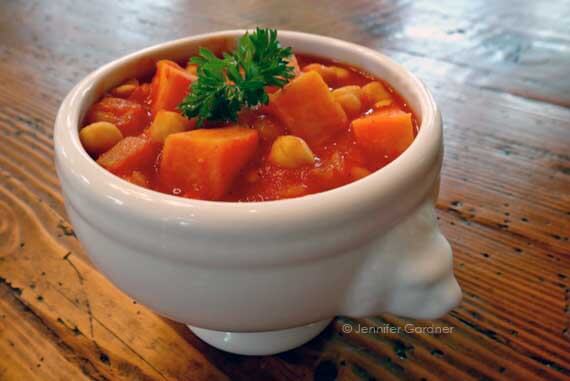 I'd like to introduce you to Dr. Jennifer Gardner. Dr. Gardner is a board certified pediatrician and the founder of Healthy Kids Company, an online program dedicated to child wellness.
In addition to creating satisfying, kid-friendly recipes as the Kitchen Pediatrician™, Dr. Gardner enjoys writing about health and fitness and is a contributing author to The Mommy MD Guide to Losing Weight and Feeling Great.  She is also the author of a children's book promoting healthy eating habits, An Eating Creed Indeed, Indeed!
This is a favorite recipe of mine and is great for fall. There are a lot of aromatics in here, but they blend together well into a warm and hearty meal. My son loves this; the ginger and curry are definitely not too overpowering. You might think there is a lot of garlic and onion in this recipe, but have trust, they melt into the flavor of this stew. This version is vegetarian, but strips of chicken or beef could easily be easily added. Just be sure to choose lean meat or skinless chicken and cook thoroughly.

Clean Eating Chickpea, Sweet Potato and Spinach Stew
Prep: 10 minutes Cooking Time: 25 minutes. Serves: 6 to 8
Ingredients:
2 (19 ounce) cans chickpeas, rinsed and drained
2 (28 ounce) cans whole tomatoes, including juice
2 onions, chopped
1 sweet potato, peeled and cubed into 1 inch pieces
6 cloves of garlic, crushed and minced fine
2 cups packed baby spinach
1 teaspoon fresh grated ginger
1/2 teaspoon turmeric
1/2 teaspoon cumin
1 tablespoon curry
Salt and pepper, to taste
Pinch red pepper flakes, optional
Cilantro, to taste and for garnish
Directions:
Over medium heat in a large skillet, sauté onions in olive oil until soft, about 5 minutes. Add the curry, turmeric, cumin, garlic, ginger, salt, and pepper; stir and sauté 1 to 2 minutes more.
Meanwhile, microwave the cubed sweet potato, uncovered, about 4 to 5 minutes depending on size of cubes. Stir several times to ensure even cooking.
Add the chickpeas and tomatoes and stir. Bring to a low simmer and cover for 10 minutes. (Add the sweet potatoes once they are fork tender).
Remove the lid and add up to 1/4 cup of water (to your desired consistency). Simmer 5 minutes more.
Off heat, add spinach until wilted. Garnish with cilantro.
Notes:
You can substitute frozen spinach, but be sure to squeeze out all water.
This dish is complimented by fresh coriander. Add up to several tablespoons in the last few minutes of cooking.
This recipe can easily be halved and still feed a family.
This recipe can be frozen once cooled completely. For best results, defrost in the refrigerator and warm over medium heat.