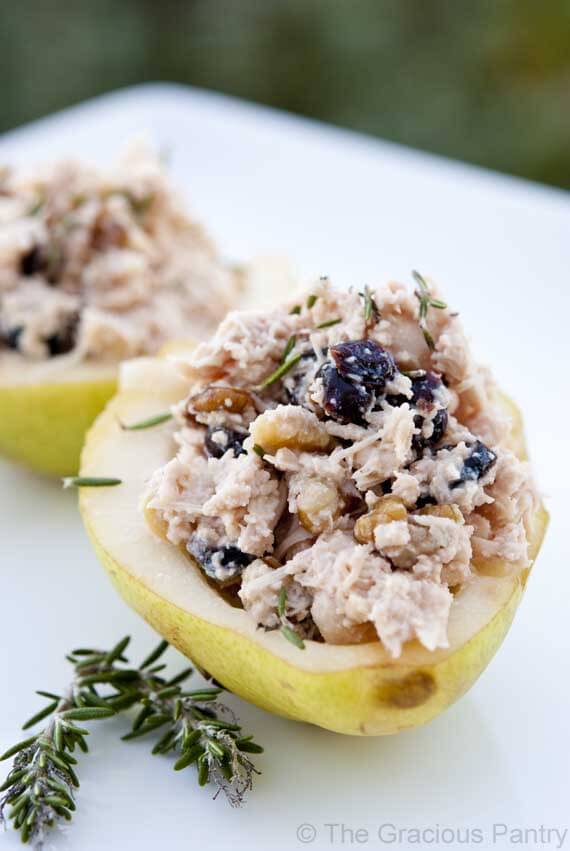 This recipes comes together quickly and has a wonderful blend of very simple flavors. Nothing overwhelming, just a delicate balance of deliciousness. A perfect breakfast, snack, lunch or dinner, the pears will satisfy your sweet tooth and need for healthy carbs while the protein fills you up and keeps you going. It's a wonderful combination. Just be sure to use fresh rosemary and chop it fine. If you have the time, you can let the chicken salad marinate a bit before filling your pears. But it's not necessary. This will be tasty either way.
YOU MIGHT ALSO ENJOY:

Clean Eating Chicken Stuffed Pears
(Makes 4 servings)
Ingredients:
1 (12.5 ounce) can chicken (or 12.5 oz. home cooked, shredded chicken)
1 1/2 teaspoons fresh, chopped rosemary
2 tablespoons juice sweetened, dried cranberries
1/4 cup walnut pieces
2 large, perfectly ripe pears
Directions:
In a medium mixing bowl, combine the chicken, rosemary, cranberries and walnut pieces.
Cut your pears in half and scoop out JUST the seeds and middle section, being sure to leave as much of the flesh in tact as possible.
Now scoop out some of the flesh from the pears and add that to the chicken as well. Leave at least 1/4 – 1/3 inch thickness in the pear halves.
Stir until well combined.
Fill the pear halves with chicken salad and serve.