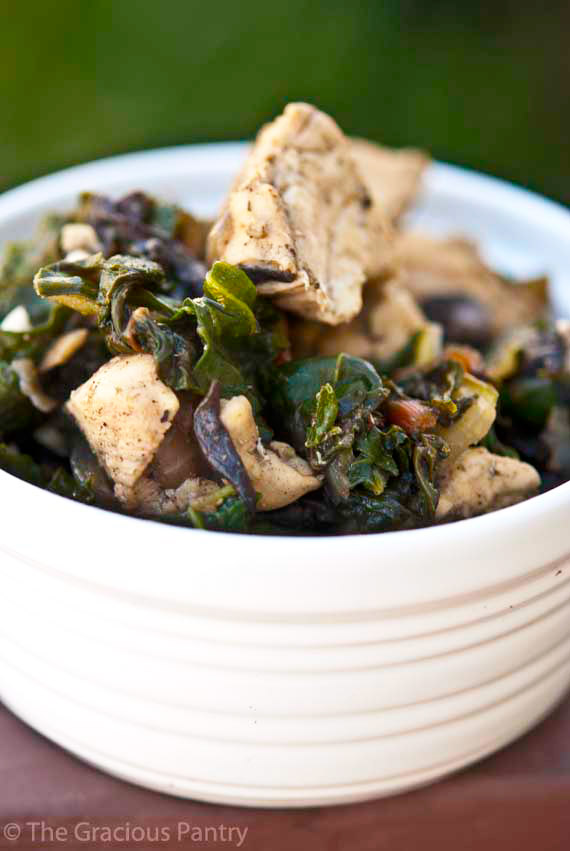 I love making these sorts of recipes for dinner. They are simple, nutritious and easy to make.
This dish is no exception. You make this all in one large skillet, and before you know it, you have a lovely meal on the table. If you don't have chard handy, kale or spinach will work as well. But if you have kids and they aren't used to kale, opt for the spinach. Basically, any green will work well here.
YOU MIGHT ALSO ENJOY:

This recipe from the Gracious Pantry archives, originally posted 2/25/13.
Clean Eating Chicken & Chard Recipe
Author:
Serves:
Approximately 5 cups
Ingredients
1 tablespoon coconut oil (or any oil)
1/2 large red onion, chopped
6 cloves garlic, chopped
8 ounces crimini mushrooms, sliced
1 1/4 pound raw, boneless, skinless chicken breasts
1/2 teaspoon cinnamon
1 teaspoon cumin
1 medium bunch green swiss chard (about 10 large leaves), chopped
1/2 cup chicken broth, low sodium, no added sugar
1/2 cup raisins
Salt and pepper to taste
Instructions
Saute the onions, garlic and mushrooms in the coconut oil.
Add in the chicken, cinnamon and cumin.
When the chicken is nearly cooked, add in the chard and chicken broth, and cook until the chard has wilted and most of the liquid has cooked out.
Stir in the raisins and remove from heat. Serve.