Clean Eating Cherry Compote For Parfaits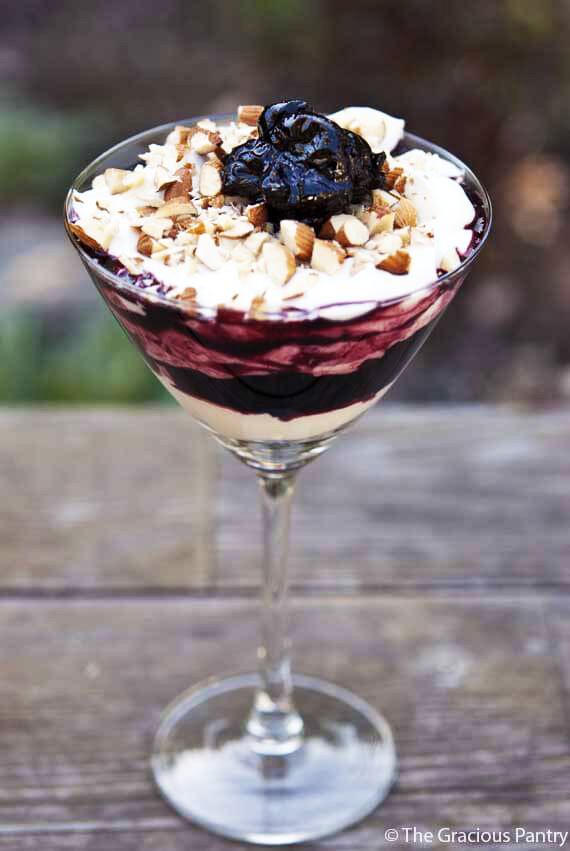 I've had this blog post sitting in my drafts folder for quite some time. I accidentally overlooked it! <gasp!!> And I definitely want to share this with you before the cherries disappear from store shelves for the year because I love fresh cherries. Few fruits can top their incredible flavor and sweetness, especially right off the tree. But cherries aren't just a tasty fruit. They have many health benefits as well.
Some sources state that cherries combat cancer, slow aging, fight insomnia (my mom drinks tart cherry juice to help her sleep. It works!) and helps protect your heart. The list could go on and on, but suffice it to say that a fruit so packed with sweet nutrition is definitely considered a superfood. How could it not be?
That's why, when I created this recipe for my Superfoods cookbook, cherries were one of the top fruit choices on the list. I thought I'd share it with you here today. The delicious sweetness is offset by the tang of the plain, Greek yogurt. It's quite the dance of flavors from the first bite to the last.
YOU MIGHT ALSO ENJOY:
Clean Eating Cherry Compote For Parfaits
Author:
Ingredients
1 cup pitted, fresh cherries (unsweetened frozen works too)
1 cup water
3 tbsp. honey
Instructions
Bring all ingredients to a boil in a small pot, then reduce heat to a simmer.
Continue cooking until the mixture has reduced by at least half and the liquid is more like syrup.
Cool and serve with plain, Greek yogurt and a clean granola or chopped nuts of your choice.