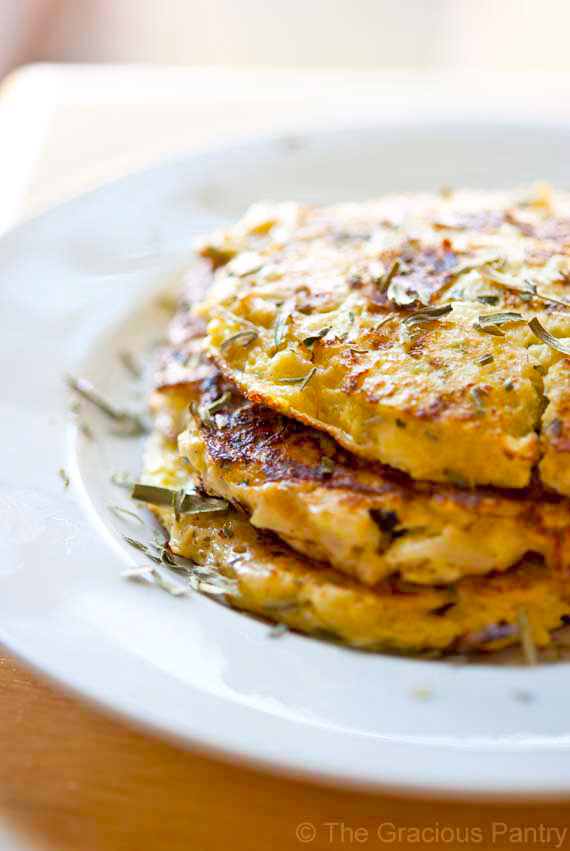 Cauliflower is such a versatile vegetable. You can pretend it's rice or even mashed potatoes! You just can't get more versatile then that with any other veggie!
So I thought I'd make cauliflower "pancakes" too. Only these little buggers are savory and boy are they yummy. You can top them with hummus or salsa if you wish, but they are good by themselves.
Mini Chef loves them topped with parmesan or cheddar cheese. I love them plain. So feel free to get creative with your toppings. Any way you top them, they are delicious!
YOU MIGHT ALSO ENJOY:

Clean Eating Cauliflower Fritters
(makes approximately 8, three inch fritters)
Ingredients:
2 cups cooked cauliflower
3 whole eggs OR 6 egg whites (your preference)
1 teaspoon dried tarragon
1/2 teaspoon garlic powder
Olive oil for cooking (unless you're using a non-stick pan)
Directions:
In a large mixing bowl, mash all ingredients together with a potato masher. It can be lumpy, but the lumps should be fairly even throughout.
Put a small amount of oil in a skillet (unless you are using non-stick) and cook like you would a pancake.
Note: If they start to break apart when you slide the spatula under them, they haven't cooked long enough. Let them cook a bit longer and then try flipping them again.