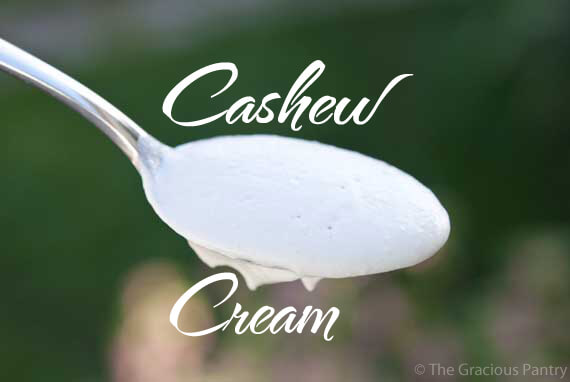 Cashew cream is something I only first learned about a few months ago. I was researching dairy free alternatives to some foods I enjoy eating and cashew cream came up as an possibility.
This very basic concept definitely has possibilities, and I can see myself using this in many future recipes. But I had to try it first to see if the flavor and texture would be passable as a substitute.
IN PLACE OF:
Whipped cream – In truth, it does have a heavier feel when used this way and there is a slight texture that you don't get with the dairy version. But all in all, it's tasty, and a nice substitute for a topping used with fruit or nearly any dessert. Simply mix with honey to taste and it's quite delightful.
Mayo – While mayo is not a dairy item specifically, I tried this just to see what else I could use cashew cream for. When mixed to taste with the ingredients in my upcoming blog post for Clean Eating Eggless Mayo, it's actually passable as a mayo substitute. It's not exact, but definitely passable if you can't do eggs.
Sauce – While I'm still experimenting with different sauce recipes, this does look quite promising. Mixed with spices or even tomato paste, I think this could go far. When I end up with a good sauce, you can bet I'll post it here!

Clean Eating Cashew Cream
Directions:
Soak as many cashews as you'd like in a bowl of water, overnight, in the fridge. (I started with 1 pound, and it was way too much. Maybe start with 1 cup and see how you like it)
In the morning, drain and rinse the nuts and transfer them to a blender or food processor.
Top with enough water so that the nuts and water are at an equal level. You don't want the water higher than the cashews or the cream will be too running. (For thicker cream, keep the water 1/2 inch under the top of the cashews)
Blend until smooth. If you are doing this in a blender and you do not have a high powered blender like I do (such as a vitamix), you may end up having to strain the leftover bits out using a fine-meshed sieve.
Transfer cream to a container and store in the fridge until ready to use. Keeps for about 1 week.