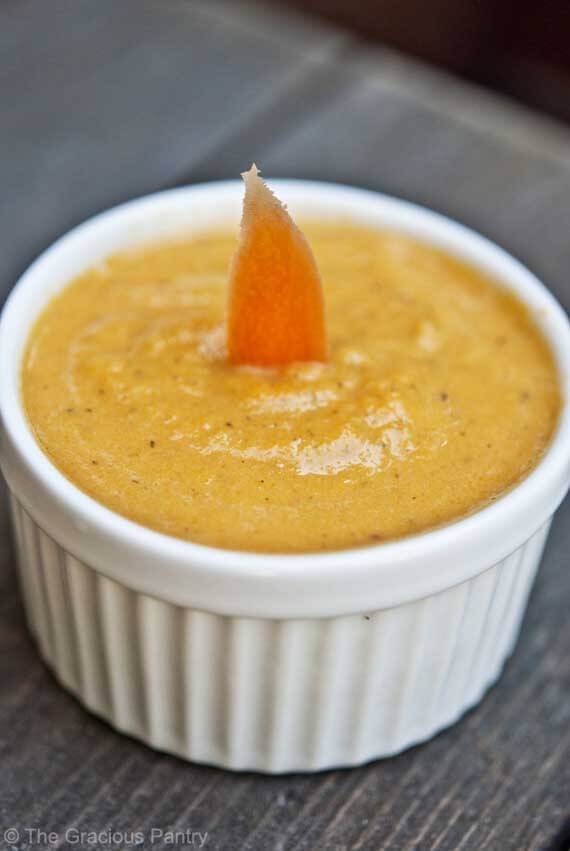 I have to tell you, every time I go to Costco, their huge bags of beautiful, bright, orange carrots call to me from the refrigerator section. Normally, I would not admit to hearing vegetables call my name in the grocery store, but I realized that this little "problem" of mine actually leads to a much bigger issue…
Once I get that big, beautiful bag of carrots home, it goes straight in the fridge where I proceed to forget about it entirely.
I wasted an entire bag of carrots not to long ago, and I still feel sick about it. I just hate to waste food.
So on my most recent trip to Costco, I went prepared. Those carrots started calling out to me and I picked up the biggest bag I could find. I brought it home and started chopping carrots immediately. They never made it into the fridge at all.
But now I have another problem. I have so much clean eating carrot soup in my freezer that there isn't a lot of room for much else.
I really need to learn to ignore those carrots.
YOU MIGHT ALSO ENJOY:
Clean Eating Carrot Soup
(Makes approximately 7 cups of soup, depending on how long you boil it)
Ingredients:
2 cups non-fat milk (soy or rice milk works too)
3 cups chicken broth
4 cups baby carrots
1/2 teaspoon celery seed
1 teaspoon dried dill
1 teaspoon dried parsley
2 tablespoons honey (optional – if the carrots are more bitter than sweet)
Directions:
Place all ingredients in a large pot and bring to a boil.
Reduce heat slightly to avoid liquids cooking over. (But keep it boiling)
Cook until carrots are soft.
Blend all ingredients with a blender, cool and serve.
Nutritional Content:
(Data is for 1 cup)
Calories: 82
Total Fat: 1 gm
Saturated Fats: 0 gm
Trans Fats: 0 gm
Cholesterol: 1 mg
Sodium: 386 mg – depends on the chicken broth used.
Carbohydrates: 15 gm
Dietary fiber: 4 gm
Sugars: 7 gm
Protein: 4 gm
Estimated Glycemic Load: 5
Please Note: Nutritional information estimated at Nutritiondata.com. Data may not be accurate and is subject to the availability of specific foods in their database. Where one ingredient is not listed, substitutions must be used. Therefore, you should not refer to this data as being exact. It's more of a ballpark figure. The Gracious Pantry does not take responsibility for the inadequacies of the nutrition calculator used. This data is provided as a courtesy and general reference only. It is not exact.