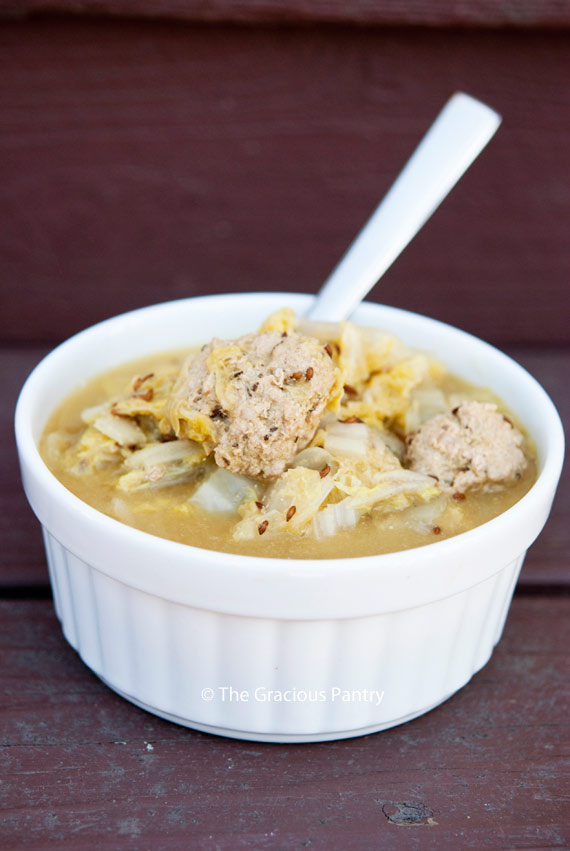 I've been eating this cabbage soup my entire life. From the time I could eat solids, my Grandmother and Mom have made this soup for me. It's a World War II recipe my grandmother brought with her when she, my mom and my uncle immigrated here in 1951. It's a good, tummy warming soup for a cold winter night.
While I've made a change or two to make it a bit healthier (the original version used beef, whole eggs and many potatoes), it's still basically the same soup my grandma made all those years ago.
If you've never had cabbage soup "German style", I highly recommend it. It's nothing like the American or Asian versions. German cabbage soup has prolific amounts of caraway seed. The more you add, the better the soup tastes. The best part about this tasty meal is the nutrition data listed below. This is a very low-cal / low-fat soup, it really fills you up and keeps you going!
YOU MIGHT ALSO ENJOY:

Clean Eating German Cabbage Soup
(Makes 24 servings)
Ingredients:

1 head of Napa or regular green cabbage (either one works)
1 pound lean ground turkey, bison or beef
4 tablespoons caraway seed (+ 2 more for the meat balls)
8 cups vegetable or chicken broth (I usually use chicken broth)
4 egg whites or 2 whole eggs (I usually use whole eggs)
1 red onion – chopped
4 cups distilled water (plus extra if needed)
2 medium russet potatoes – chopped small. (optional)
Salt and pepper to taste
Directions:

In a large pot, set your broth and water to boil.
Chop your cabbage and set aside.
In a large mixing bowl, mix your turkey meat, onion, eggs and 1/2 of your caraway seed (1/4 jar).
Roll small (walnut size) amounts of turkey into balls and drop into boiling water.
If using potatoes, add to pot.
Add your remaining caraway seed to the boiling water as well.
Top off with cabbage, and cover. Return pot to a full boil, and reduce heat just enough to keep it from boiling over.
When the meatballs are cooked through and the cabbage is soft, it's done. Add salt and pepper to taste.