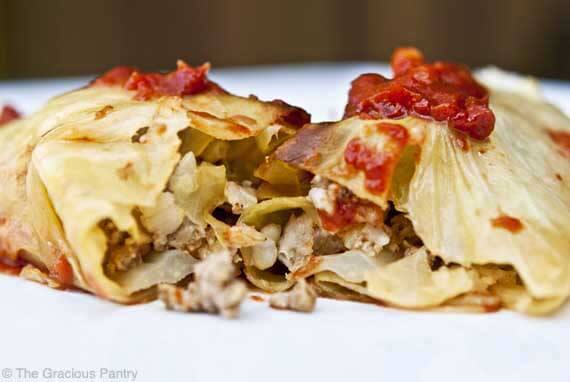 Many moons ago, a reader sent me a recipe for these cabbage rolls. I had never made cabbage rolls or even eaten them before so I thought it would be something fun to try. But I kept putting it off for reasons unknown.
I'm sure by now she's given up on the idea of me ever sharing this recipe with you. I'm truly sorry I didn't shared it with you all those many moons ago, but sometimes, good things are worth waiting for. And these are good!
I will post her original recipe here as well as my changes so you can try them both.
An interesting side note: I tried to do a little research to find what the country of origin is for the cabbage roll. Apparently, it's a topic of heated debate (as seen here in the comments). Some think they are Italian, some say Russian or Polish. But no matter where these delicious little rolls originate from, one thing is for sure. They make for a really yummy dinner!
YOU MIGHT ALSO ENJOY:
Clean Eating Cabbage Rolls
Ingredients:
1 large head greed or red cabbage
1.5 pounds lean ground turkey meat
2 cups brown rice, cooked to package directions
1 large white onion, chopped
2-4 (15 ounce) cans tomato sauce (no sugar added)
2 teaspoons olive oil
1 teaspoon cinnamon
1 teaspoon chili powder
1 teaspoon cumin
2 teaspoons garlic powder
Original Recipe:
1 pound ground turkey
1/2 cup brown rice
1/2 white onion
1 teaspoon cinnamon
1 head of cabbage, green or red
Roma Tomatoes
2 egg whites (optional)
Directions:
Place the entire cabbage in a steamer and steam until cooked through. (You should be able to pierce it with a knife fairly easily. If it is a really large cabbage, you may need to remove half the leaves after steaming for a while to get the middle portion cooked.
In a large pan, saute the onions in the olive oil until just barely translucent.
Stir in the turkey and cook thoroughly.
Stir in all of the spices and cooked rice and mix well.
Remove pan from heat.
If you haven't already done so, remove the leaves from the head of cabbage, being sure to keep the leaves in whole pieces.
Pour a can of tomato sauce in the bottom of a large casserole dish (I had 2 lasagna pans that were 9X13).
Spoon approximately a 1/2 cup of the filling into a cabbage leaf and roll like a burrito. With smaller leaves, you may need to use 2 leaves to get it wrapped properly.
Place each roll into the tomato sauce in the casserole dish. When the pan is full, pour more tomato sauce over the top to keep the tops from burning during baking.
Bake at 350 F. just long enough to heat everything through. Everything is essentially already cooked, so you just want to get the tomato sauce to meld with the cabbage rolls a bit. Once the tomato sauce is hot and a little bubbly, remove the pans from the oven.
Allow to cool a bit and scoop the rolls out of the pan and onto a plate using a spatula or large serving spoon. Be sure to top the rolls with a little tomato sauce when serving.
NOTE: Nutritional content not available for this recipe.