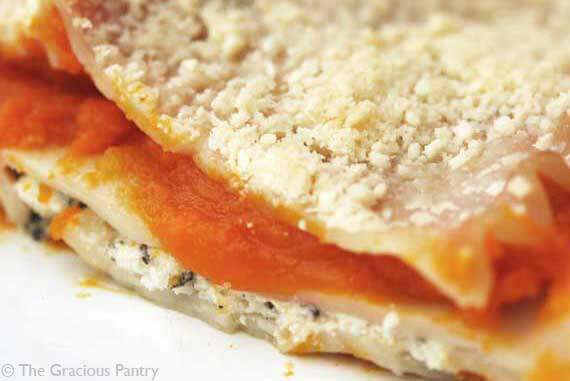 In honor of Mother's Day, I thought I'd give you a recipe for something a little more decadent and filling, yet still clean and healthy. It's even low in fat and calories!
The first time I tried this recipe, I made it WAY more complicated that it needed to be. I ended up with a big pan of an indescribable, squash-like mess. It wasn't pretty. I'll spare you the gory details.
So this time around, I decided to keep it simple. I mean, isn't that part of eating clean anyway? And wouldn't you know it, I ended up with a really tasty lasagna.
YOU MIGHT ALSO ENJOY:

Clean Eating Butternut Squash Lasagna
(Makes 15 servings)
Ingredients:
1 (10 ounce) box whole wheat or brown rice lasagna noodles
1 medium-sized butternut squash
1 (15 ounce) container low-fat ricotta cheese
2 tablespoons dried sage
1 tablespoon honey
1/4 cup low-fat or non fat milk
1 teaspoon garlic powder
1 teaspoon onion powder
1/2 cup grated parmesan cheese
Salt and pepper to taste
Directions:
Preheat oven to 350 degrees F.
Cut your squash in half, and clean out the seeds. Place open-face down in a casserole dish that has 1/2 inch of water in it. Bake until the squash is easily pierced with a fork or knife. Squash should be good and "mooshy".
Allow to cool. Then scoop the squash out of the skin and into a large mixing bowl or blender. If there is some water in there, that's okay. It'll just make it smoother when you blend it. Blend with honey until smooth and creamy. Set aside.
Cook your noodles according to package directions.
In a large mixing bowl, combine your ricotta, milk, sage, garlic powder and onion powder. Blend with a whisk or hand-blender.
Spread a thin layer of squash on the bottom of a casserole dish (you can use the same one you baked the squash in). This is a great way to keep the food from burning on the bottom without using a bunch of oil or butter.
Add a layer of noodles, then ricotta, then noodles and then squash and finally another layer of noodles (as shown below).
Sprinkle the top with parmesan cheese.
Bake for about 20 minutes.
Note: My casserole dish was 10 X 15 inches.