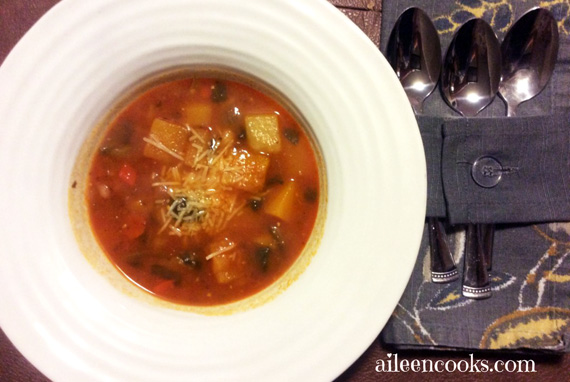 I love a good soup, especially in winter time. One of the reasons why I love soup is because it is so versatile. You can whip up a nice big pot of soup with whatever you have on hand, making soup a great way to use up extra ingredients that might otherwise go bad. You can also make a double batch and store the extras in your freezer for a busy night.
This clean eating minestrone soup is based on the idea of throwing pantry and freezer staples together to make a wholesome and filling vegetarian meal. It does have one ingredient that makes it extra special – butternut squash! The butternut squash in this soup really kicks it up a notch and adds an extra layer of flavor that you'll really enjoy.
If you haven't worked with butternut squash before, there are two different ways to purchase it: whole or pre-cut. If you decide to purchase the butternut squash whole (which is the most frugal option), you will need to slice off the top and bottom using a sharp knife, peel, and seed the squash prior to cutting it into cubes.
You can serve this soup alone or add a side like cheesy garlic bread for dipping in the soup. I can tell you from personal experience that it tastes really good dunked in minestrone soup.
If you plan on freezing part or all of this soup, omit the orzo and add it as you reheat the soup. It just takes a few minutes to cook and the texture will make a difference!
Guest post and recipe by: AileenCooks.com.
YOU MIGHT ALSO ENJOY:

Clean Eating Butternut Minestrone Soup Recipe
Author:
Serves:
Approximately 15 cups
Ingredients
2 tbsp. olive oil
1 yellow onion, chopped
2 medium carrots, diced
3 garlic cloves, minced
4 cups vegetable broth
4 cups water
1 (8 oz) can tomato paste
2 1/2 cups peeled and cubed baking potato
1 cup green beans cut into 1 inch pieces
2 cups frozen chopped spinach
2 1/2 cups peeled and cubed butternut squash
1 (16 oz.) can cannellini beans, drained and rinsed
1 cup whole wheat orzo pasta
1/4 cup Parmesan cheese
Instructions
Heat the olive oil over medium-high heat in a large pot. Add the onion and carrots and stir until the begin to soften – about 3 minutes.
Mix in the garlic and continue to cook for another minute.
Stir in the vegetable broth, water, and tomato paste. Mix until the tomato paste is fully combined.
Add the green beans, potato, and spinach.
Bring to a boil and then cover and simmer for 15 minutes. Stir occasionally.
Add the butternut squash and cannellini beans. Continue to simmer for 10 more minutes.
Mix in the orzo pasta. Simmer for 1 more minute and then turn off the heat.
Ladle the soup into bowls and top with a spoonful of grated Parmesan cheese.