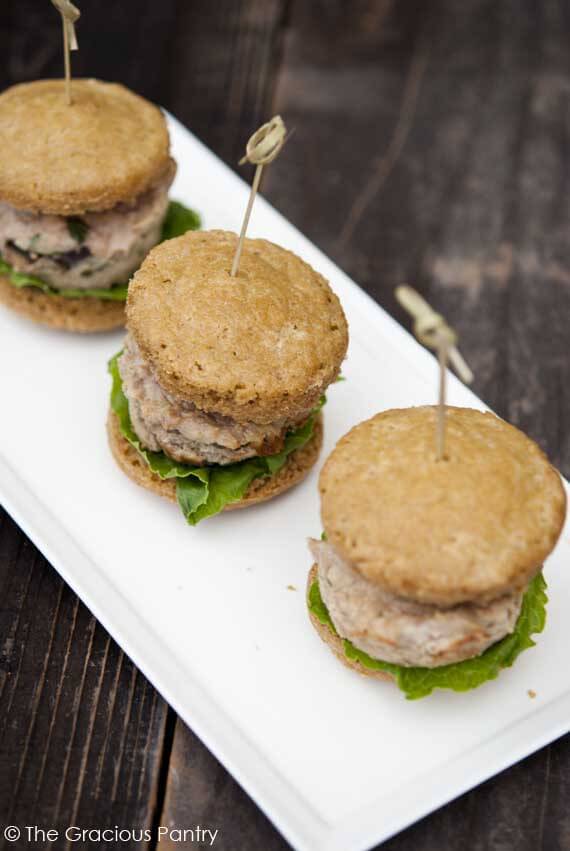 The Super Bowl is nearly here! Are you excited?
I have to admit, I'm not much into football. But I do enjoy all the buildup and anticipation. I think it's fun watching people get so worked up over a game. I guess I'm just weird like that. But it does give me a great excuse to cook! And with that in mind, I figured there's no food that fits the Super Bowl motif better than the almighty slider.
But sliders don't have to just be some small pieces of ground meat on a tiny burger bun. Nope, they can be filled with all kinds of deliciousness. In fact, if you can have dairy (I can't), you might even want to consider adding a little brie to the mix here. Oh what deliciousness that would be!!!
Okay, so now that I'm drooling, lets get on with the recipe.
If you want this to be lower in fat (definitely don't include the brie!), simply sauté the mushrooms in about a 1/2 cup chicken broth instead of butter (or in my case, ghee.)
YOU MIGHT ALSO ENJOY:
RECIPES USED:

Clean Eating Buttered Mushroom Stuffed Sliders
Author:
Ingredients
2 tbsp. ghee or butter
4 oz. cremini mushrooms, cleaned and sliced thin
3 garlic cloves, minced
2 tbsp. minced red onion
1 tsp. dried thyme or 2 tsp. fresh thyme
1/4 cup fresh Italian parsley, chopped fine (measure before chopping)
1 1/2 lb. ground turkey
2 large eggs
1/2 tsp. sea salt (or sprinkle on after cooking if you prefer)
1/2 tsp. ground pepper
Olive oil in an oil sprayer for greasing your muffin tin (if you use one)
Instructions
In a large skillet, saute the mushrooms, garlic, onion and thyme over low to medium low heat in the butter or ghee.
When the mushrooms are finished, move the skillet from the heat and quickly stir in the fresh parsley.
Set aside, allowing to cool long enough that you can handle the mushrooms with your fingers without burning yourself.
Preheat oven to 350 F. and grease a standard sized muffin tin with olive oil spray, unless you have a slider maker. You could also potentially just form these by hand and bake on a parchment lined cookie sheet. The choice is yours. I just find that without a slider maker, a muffin tin gives me the nice shape I want so the meat easily stays on the bun.
In a large mixing bowl, knead the turkey, egg, salt and pepper together.
Take a small amount of meat (about 1 to 1 1/2 tbsp.) and press into the base each of the 12 muffin wells.
Evenly divide the mushrooms between the muffin wells. (This is where you would add cheese if you want it) Slightly press the mushrooms down gently into the meat.
Press the remaining meat in equal amounts over the tops to sandwich the sliders and seal up the mushrooms inside the meat.
Bake for 40-50 minutes or until the sliders reach at least 165 F on a meat thermometer.
Allow to cool and transfer them to the slider buns. (I made the low carb muffins linked above ahead of time and used them as buns. Worked great and it was low carb!)