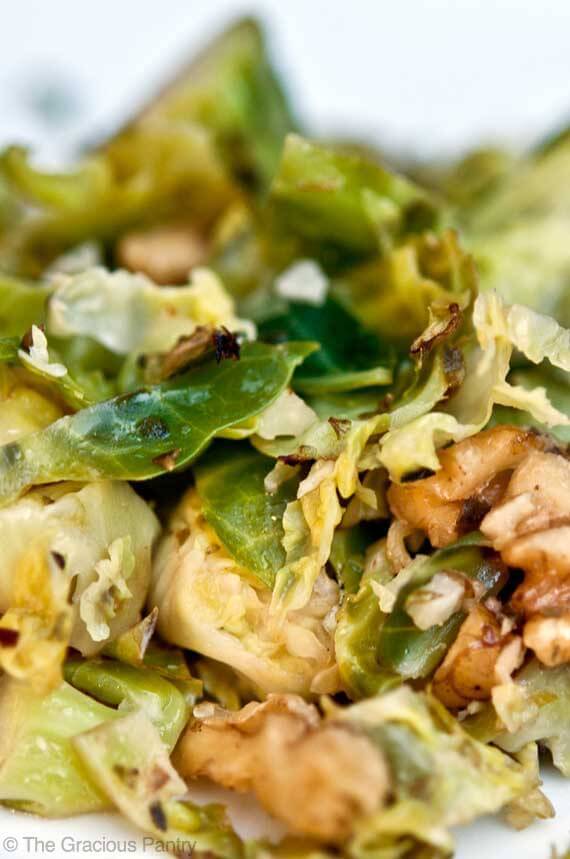 Brussels sprouts remind me of my grandmother. I called her Omama (German for grandma).
Omama had a way of making vegetables of any kind tasty. She used the same technique for just about every vegetable she served me. She would set an entire stick of butter on a butter dish, cut off a 1/4 inch chunk, stab the butter and then a brussels sprout with a fork, sprinkle some salt over the top and shovel it into my mouth.
I remember chewing as fast as I could to get the butter to cover up the flavor of the brussels sprout. But once the flavor of all that fabulous butter took over, I was a happy camper.
It was obviously not the healthiest way to eat a brussels sprout, but it sure did taste good!
It took me years to get past needing a chunk of butter with every vegetable I ate. But I eventually did learn to love the flavor of plain brussels sprouts, so I thankfully no longer eat them with nearly a full stick of butter. How I managed to not be completely obese as a small child is beyond me. Maybe it's because I had so many vegetables?
It's a mystery.
But I will say this much. Omama did instill a love of vegetables in me that I've carried with me through the years. And regardless of how she served them, I always knew they would taste good. And that's half the battle with vegetables for most people, isn't it?
I must admit, these sprouts are a bit indulgent. Parmesan AND walnuts?? Ya, I just couldn't help myself. Call it a throw-back to my childhood. I promise I'll do better next time.
Until then, here's the recipe in case you're sprouts are feeling a little indulgent too.
YOU MIGHT ALSO ENJOY:

Clean Eating Brussels Sprouts Hash
(Makes 4 servings)
Ingredients:
1 pound brussels sprouts
1 tablespoon olive oil
2 cloves fresh garlic
1 tablespoon lemon juice
2 teaspoon dried marjoram
1/4 cup walnuts chopped
1/4 cup parmesan cheese
Directions:
I like to blanch my brussels sprouts first. But if you don't want to do this extra step, just chop your sprouts and get ready to cook.
Place all ingredients together in a large pan and cook on low heat until everything starts to brown slightly.
Cool slightly and serve.