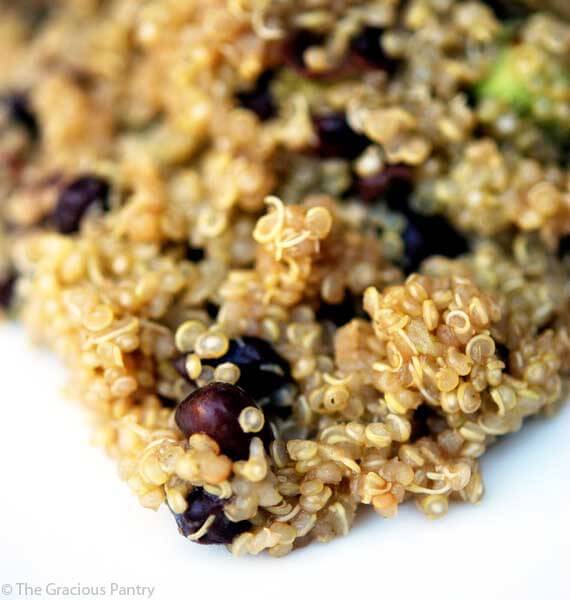 This recipe came out of a desperate attempt at making something for dinner.
You see, every once in a while, I go through these periods where I just cannot come up with a single, stinkin' idea as to what to make for dinner (or any meal for that matter).  Try as I might, nothing comes to me. Kinda like writer's block.
This is completely normal for me. I go through this all the time. It comes and goes like a little brother just waiting for the right moment to torment me. It's just one of those things that happens when you constantly try to come up with new recipes.
It's a big, hairy, stinkin' brick wall.
Then I remembered I had a huge bag of Quinoa from Costco sitting in the pantry, and it all sort of unraveled from there. I knew that black beans go well with Quinoa, so I put them together. Then I added avocado just because I love avocado so much. But it still needed a little something…
Well, I might as well just give you the stinkin' recipe already (By the way, it doesn't stink. It actually smells quite nice.).


Clean Eating Black Bean Quinoa Salad
Ingredients:
4 cups cooked quinoa (add 2 bouillon cubes to the cooking water)
2 cups (or 2 cans) black beans
2 ripe avocados
1/4 cup balsamic vinegar
Salt and pepper to taste
Directions:
Mix all the ingredients in a large mixing bowl and serve.
This salad is best served warm. (Not hot, just warm.)
Nutritional Content:
(Data is for a generous 1/2 cup)
Calories: 291
Total Fat: 8 gm
Saturated Fats: 1 gm
Trans Fats: 0 gm
Cholesterol: 0 mg
Sodium: 10 mg
Carbohydrates: 44 gm
Dietary fiber: 9 gm
Sugars: 2 gm
Protein: 10 gm
Please Note: Nutritional information estimated at Nutritiondata.com. Data may not be accurate and is subject to the availability of specific foods in their database. Where one ingredient is not listed, substitutions must be used. Therefore, you should not refer to this data as being exact. It's more of a ballpark figure. The Gracious Pantry does not take responsibility for the inadequacies of the nutrition calculator used. This data is provided as a courtesy and general reference only. It is not exact.