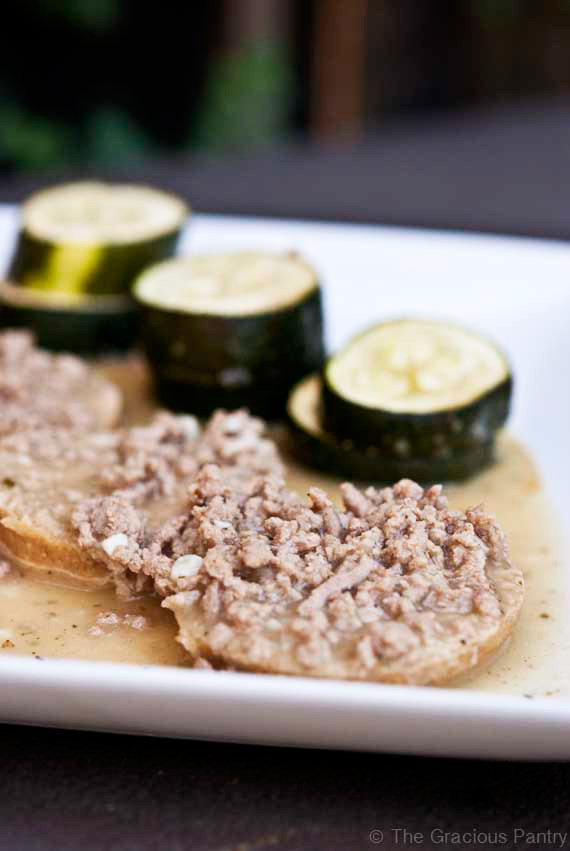 The other night, I promised Mini Chef that I would make him some banana ice cream if he promised to eat all his dinner and some extra veggies. He wasn't happy about it, but I can get this kid to do just about anything with the promise of banana ice cream. He lives for it. Once he finished his ice cream, he looked around to make sure I was not watching, and then went to every single person in the house and pilfered some of their banana ice cream from them. All in all, I'd say he got most of the batch I made.
Little turkey.
But I know how he felt, because I wanted to do that very same thing after taking my first bite of these biscuits and gravy. In fact, I thought of packing it all up and leaving the house so I could have it all to myself.
This is no joke. My family lovingly refers to me as "Joey" from the sitcom Friends. I do NOT share my food with anyone, but I'm happy to sample yours. Maybe that's part of how I got into this unhealthy mess in the first place. But regardless, I don't like to share my food, and I will defend it if necessary.
You've been warned.
Just sayin'…
Thankfully, reason kicked in and I did manage to give everyone their fair share. But it was hard. I didn't want to. Not even a little.
NOTES ON THE RECIPE:
This gravy is a little thinner than a traditional gravy because it doesn't have all the fat in it that traditional gravy has. But as it cools, it thickens ever so slightly and spreads really nicely over whatever you put it on.
I will say that some salt really makes this recipe. While I recommend using low sodium chicken broth, I also recommend adding salt at the end because if you don't, this entire thing is somewhat dull in flavor. A little salt will truly bring out all the flavors in this gravy.
YOU MIGHT ALSO ENJOY:

Clean Eating Biscuits And Gravy
(Makes 10 servings)
Biscuits:
Gravy:
8 cups low sodium chicken broth
12 cloves garlic, chopped (or 3-4 tbsp. garlic powder)
1 tablespoon olive oil
1 tablespoon onion powder
1 teaspoon marjoram
1 teaspoon garlic powder
1/2 teaspoon black pepper
1/2 teaspoon ground sage
1/2 teaspoon coriander
1/4 teaspoon cumin
8 tablespoons whole wheat pastry flour.
Salt to taste
Meat:
1-1/2 pound lean ground turkey meat
1 tablespoon garlic powder
1 tablespoon onion powder
Directions:
In a large pan or soup pot, sauté the garlic in the olive oil.
Pour in the chicken broth.
Add all the gravy spices.
Whisk in the flour, being sure to whisk out all clumps. If you struggle with this, a hand blender will come in handy as well.
Pour the gravy into a large holding bowl and set aside.
Ladle a small amount of gravy back in to the pan or soup pot and use that to cook the ground turkey with, adding the additional spices as it cooks.
When the meat is cooked, pour the gravy from the bowl back into the pan and allow the gravy to gently boil for approximately 5 minutes, stirring frequently.
Add salt to taste and allow to cool. This will thicken just slightly as it cools.
Cut some biscuits in half and ladle some gravy over the top.