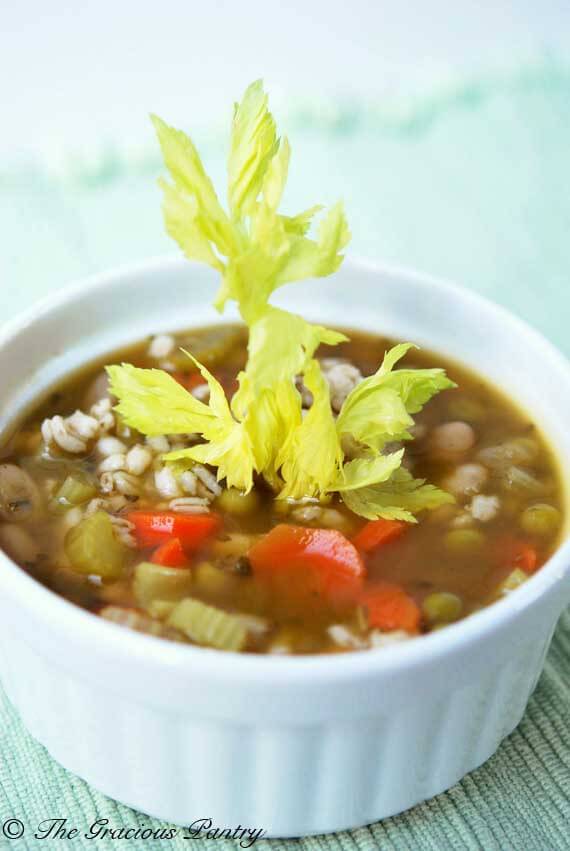 This soup is so fabulously filling and comforting all at the same time, that I can't help but make it again and again during the colder months.
This is one of those soups you always wanted to come home to as a kid on a day when you were soaked with rain from head to toe. A day where all you could think about was getting home after school and sitting with mom at the table talking about everything that had happened in your day. Feeling safe, secure, loved and well nourished.
Amazing how good, nutritious foods can do that for us, isn't it?
YOU MIGHT ALSO ENJOY:
Clean Eating Beans And Barley Soup
(Makes approximately 16 cups)
Ingredients:

8 cups veggie stock
2 tablespoons marjoram
4 stalks celery
3 large carrots
2 (15 ounce) cans Cannellini beans (white kidney beans)
1 (1 pound) package frozen peas
Barley (precooked separately – I cook mine in my rice cooker)
Salt to taste (Not included in nutritional information)
Directions:

Place your veggie stock, herbs, celery, carrots and frozen peas into your pot and bring to a rolling boil.
When the veggies feel soft and cooked through (or however you prefer them), add the beans. Cook just long enough to warm the beans.
Put about 1/2 cup of barley into a bowl, and top with soup.
Nutritional Content:
1 serving = 1/2 cup barley & 1 cup soup
Calories: 216
Total Fat: 2 gm
Saturated Fats: 0 gm
Trans Fats: 0 gm
Cholesterol: 1 gm
Sodium: 445 mg
Carbohydrates: 44 gm
Dietary fiber: 8 gm
Sugars: 3 gm
Protein: 8 gm
Estimated Glycemic Load: 18
PLEASE NOTE: Nutritional Information estimated at Nutritiondata.com. Data may not be accurate and is subject to the availability of specific foods in their database. Where one ingredient is not listed, substitutions must be used. Therefore, you should not refer to this data as being exact. It's more of a ballpark figure. The Gracious Pantry does not take responsibility for the inadequacies of the nutrition calculator used. This data is provided as a courtesy and general reference only. It is not exact.