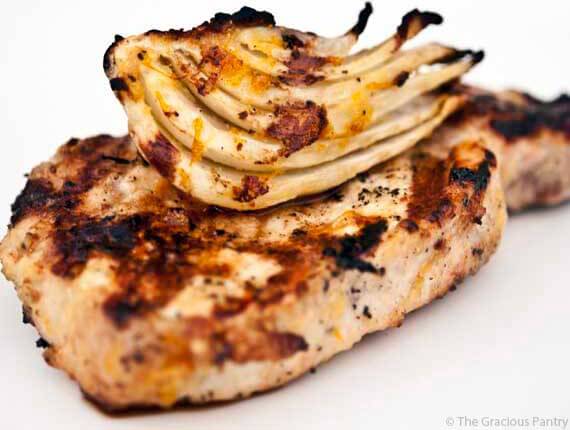 I have to admit that the star of this show is not the pork, it's the fennel.
The first time I ever had fennel, I had a hard time with its licorice flavor (I've never liked licorice). But for some reason, I was at the store and the fennel looked too good to pass up. I figured there just had to be something I could do with it. So I went home, sat down and did a little recipe formulating, and this is what I came up with!
The fennel's flavor is incredibly mild, the texture is perfectly soft and sensuous and the orange and garlic combination add just the right hint of zestfulness to the dish. And when you get through all that, you can close your eyes and sink your teeth into that truly tender pork chop.
Okay, now I'm hungry again. And darn it! No leftovers!
YOU MIGHT ALSO ENJOY:

Clean Eating BBQ'd Citrus Pork With Fennel
(Makes 5 servings)
Ingredients:
3 fennel bulbs, quartered
5 pork loin chops
Zest of 1 orange
Juice of 1 orange
5 garlic cloves, chopped
2 teaspoons garlic powder
1 teaspoon onion powder
1/2 teaspoon black pepper
1 tablespoon olive oil
1/4 teaspoon sea salt
Directions:
Combine all ingredients in a gallon-sized Ziploc bag. Shake well and allow to marinate for about 1 hour.
Place on the heated BBQ and cook until the fennel bulbs are soft and the pork reaches at least 165 degrees F.