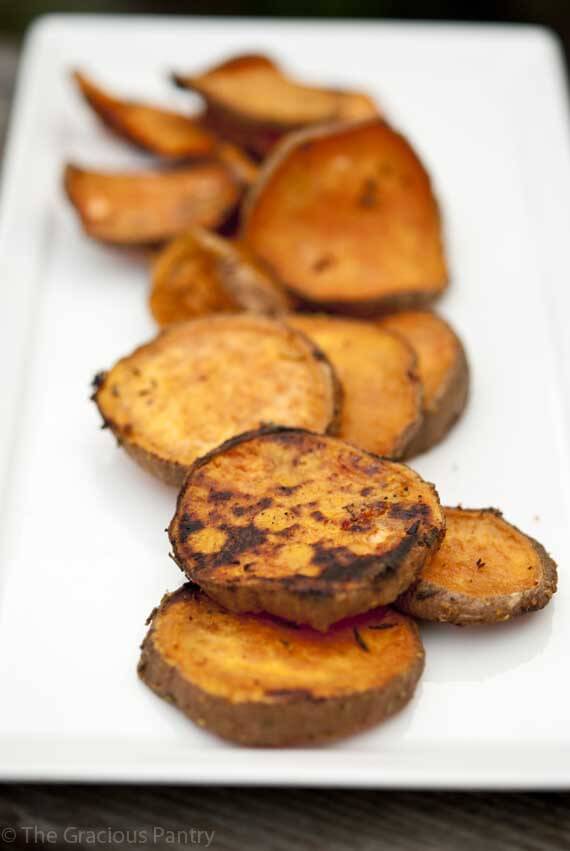 So here's the thing. In the past, I've made sweet potato recipes that I enjoyed. But overall, I really don't care for them much. They are definitely not my go-to side dish.
In total, I have about 5 or 6 sweet potato recipes on this site, and I can honestly say that while I have enjoyed the recipes I've made, I just cannot get on the sweet potato band wagon.
I know, I know. This is clean eating sacrilege. I get it. But at least I keep trying, and I have to say that with this last attempt, they do seem to be growing on me a bit more.
I mean, if I can get over my distaste for cucumbers, surely I can overcome the sweet potato thing. Right?
YOU MIGHT ALSO ENJOY:

Clean Eating BBQ Rosemary Sweet Potatoes
(Makes 4 servings)
Ingredients:
2 medium sweet potatoes, washed and sliced (peel if preferred)
1 tablespoon olive oil
2 tablespoons fresh, chopped rosemary
1 teaspoon garlic powder
Directions:
Peel (if desired) and slice your sweet potatoes very thin. About 1/8 to 1/4 inch thick at the most. The thinner they are, the better they cook.
Place all ingredients in a large, food-safe bag and shake to coat the potatoes in the oil and spices.
Using a grill pan or aluminum foil, cook the potatoes on the grill. They may take a while to cook, so allow for that. They will take a bit longer to cook than most pieces of meat. So time your meal accordingly. They are done when they begin to fall apart when stirred.