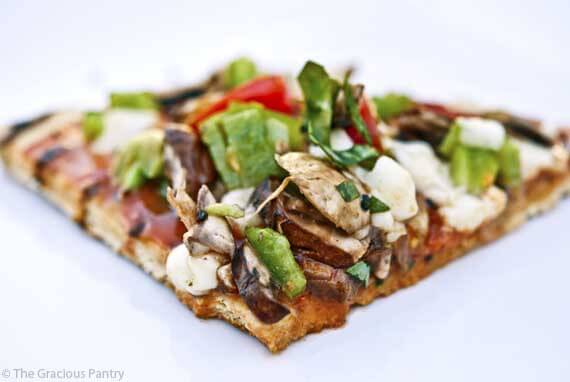 I've been wanting to try a BBQ Pizza recipe for a long time. But I kept putting it off because it seemed like such a lot of work. But the reality is, while it was a little time consuming (allowing the dough to rise for 2 hours), I was pleasantly surprised by how simple it really was.
For my first pizza (pictured above) I simply put the vegetables on the pizza without sautéing them first, and I had cut back on the salt in the dough thinking that 2 tsp. was just too much. But it turned out, the 2 tsp. of salt was necessary for flavor, and the pizza would have had much more flavor if I'd sautéed them first.
So for my second pizza, that's exactly what I did. Soooo much better!
Basically, if you plan for the two hours of rising time, I think you'll be really happy with this recipe.
I should also mention that this was a "recipe-redo". You can find the original recipe here: Click here.
YOU MIGHT ALSO ENJOY:
Clean Eating BBQ Pizza
(Makes 2 pizzas)
Crust Ingredients:
(Prep time: just over two hours)
1 (.25 ounce) package active dry yeast
1 cup warm water
1 teaspoon honey
2 teaspoons sea salt
1 tablespoon olive oil
3 1/3 cups whole wheat pastry flour
1 teaspoon garlic powder
2 teaspoons Italian herb
Topping Ingredients:
1 cup tomato sauce
2 cloves garlic, minced
1 cup cherry tomatoes – halved
1 green pepper – chopped
1 cup crimini mushrooms – sliced
1/2 large red onion – diced
1 tablespoon olive oil
1 ball fresh mozzarella – chopped
1 cup chopped fresh basil
Crust Directions:
Pour your warm water into a large mixing bowl. Add the yeast and then the honey. Stir briefly and then let stand for 10 minutes or until you have a nice bit of foam on the surface of the water.
Stir in the rest of the crust ingredients and combine.
Place the dough on a stable work surface and knead for at least 5 minutes. This will feel like a lot of kneading, but it's necessary. You'll see that the more you knead, the smoother your dough becomes.
Shape dough into a small ball, return the dough to the mixing bowl, cover with a towel and let sit for 1 hour.
Punch down your dough and add the garlic powder, salt and Italian herbs. Knead for 2 minutes and shape into a small ball once again.
Let stand, covered with a towel for 1 more hour.
Roll out to approximately 1/4 inch thick, and cut in half so you have two pizzas. Set aside on a cookie sheet.
Topping Directions:
Combine the garlic, onion, green pepper, and mushrooms in a pan with the olive oil and sauté until cooked through over low heat.
Cool mushroom mixture in a medium mixing bowl. Once cooled, add mozzarella and tomatoes. Toss well.
Pizza Directions:
Place your pizza dough on your hot grill. Allow to cook for approximately 5 minutes, or until the bottom has a nice brown surface.
Flip the pizza using two spatulas.
Immediately spread your sauce over the cooked side of the dough and add your toppings. Close the lid and cook until the cheese is melted and the vegetables look done. Careful to watch that the bottom of your dough doesn't burn.
Remove from grill with spatulas and cool slightly.
Sprinkle fresh basil over top of pizza, slice and serve.
Nutritional Content is unavailable for this recipe.