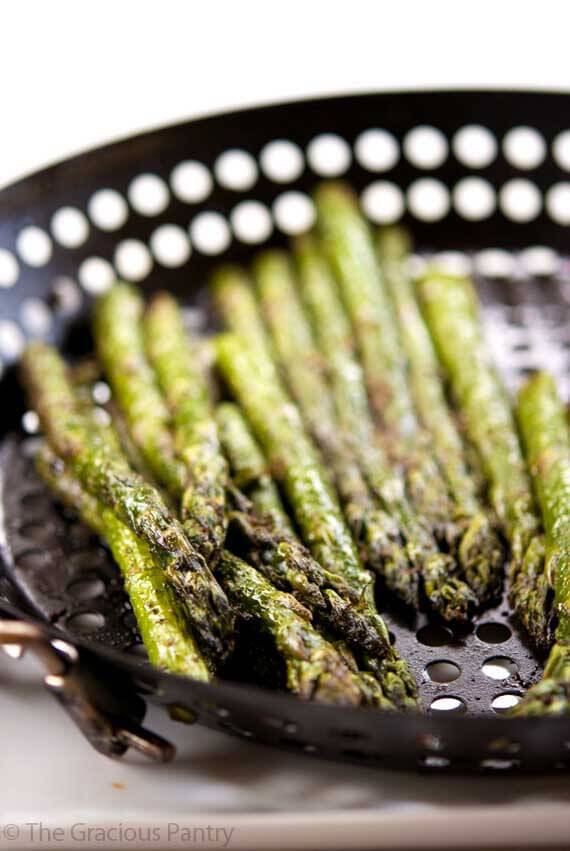 I couldn't stand asparagus growing up, but thankfully, my tastebuds have matured with time. And I'm proud to say that at 4 years old, Mini Chef loves it too. I'm always so impressed by what he will eat that I never would as a child. It's not like I had a shortage of veggies on my plate growing up either. I was just a picky child I guess, and asparagus was definitely out.
These days, I'm happy to help myself to a large portion of asparagus whenever it's available. I love it soggy, I love it al dente, I love it just about any way I can get it. But if you put it on the barbecue, well…. watch out. Because you'll most likely have to fight me for even one little tip of asparagus.
Go ahead and give this one a try. I dare ya. Just watch out, because I may appear out of nowhere with a plate and a fork, and I'm not afraid to use them!
YOU MIGHT ALSO ENJOY:

Clean Eating BBQ Garlic & Dill Asparagus
(Makes 4 servings)
Ingredients:
1 1/2 pounds asparagus
1 teaspoon dried dill
1 teaspoon garlic powder
1/2 teaspoon black pepper
1 tablespoon olive oil
Directions:
Place all ingredients in a large, food-safe bag and shake around until the asparagus is fully coated in the oil and spices.
Put asparagus in a grill pan or in aluminum foil and place on the grill. Cook to desired level of doneness (is that even a word?)