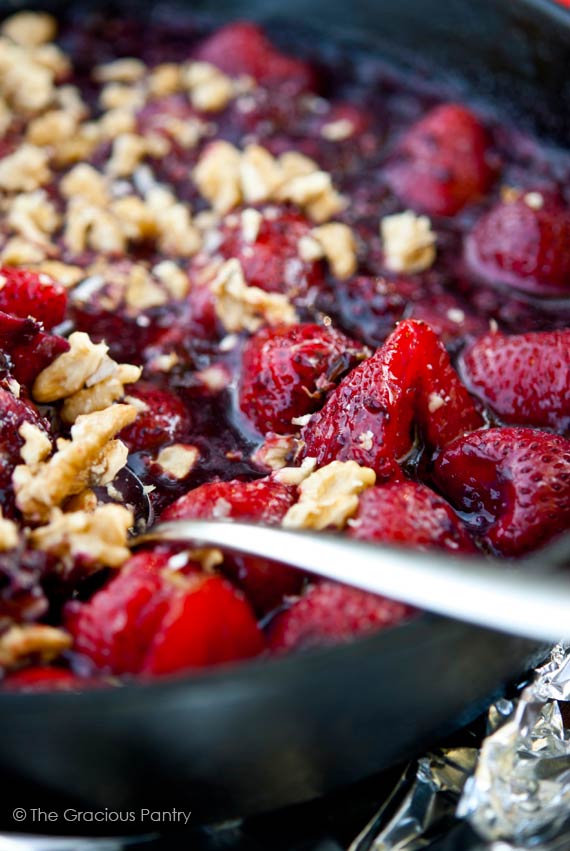 It's nearly June, and barbecues everywhere are collectively firing up for some summertime deliciousness.
Typically, when we think of food off the barbecue, we think of things like meats and veggies. But if you bring a grill-safe pan to the party, it opens up a whole new world of possibilities!
Dessert off a barbecue? Oh yes, please. This delicious berry skillet can be eaten as is, or served over ice cream. Either way, it's a wonderful way to enjoy the seasonal berries in stores right now.
The nuts are optional, but they are a lovely addition if you aren't allergic. I sliced up a banana and poured a little of this over the top. Delicious, fruity heaven!
We barbecued at the park one day, and this was dessert. It was the perfect end to a perfect park day!
YOU MIGHT ALSO ENJOY:

Clean Eating Barbecued Berries & Walnuts Skillet Recipe
Author:
(See process photos below)
Ingredients
2 cups fresh raspberries
4 cups fresh strawberries
1 white peach or nectarine
2 tbsp. honey
1 tsp. ground cinnamon (optional)
1 cup crushed walnuts
Instructions
Combine the berries and peach or nectarine in a skillet and stir in the honey and cinnamon if using.
Set on heated grill and cook until the berries are soft, warm and have released enough liquid to come up at least halfway over the berries.
Top with crushed walnuts and serve warm. Note that there is almost no chance of having leftovers.
Prep: This recipe can be prepped ahead of time and stored in a cooler. Simply combine everything but the nuts in a container or Ziploc bag and toss in with your other cooler foods. Alternately, it's just as easy to pack the produce separately and assemble on-site.