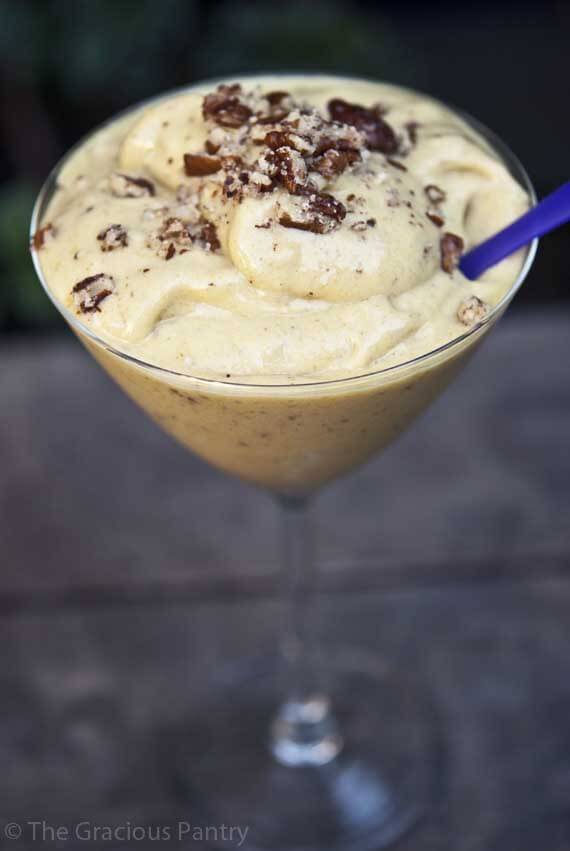 Oh my. I just can't seem to leave well enough alone. You see, I was so taken with my last two banana ice cream recipes that I just couldn't help but get a little creative. I hope you'll forgive me for all the variations on this recipe. But you just can't beat it!
This version creates a true soft serve ice cream. So serve it in a cup because a cone won't hold it. And just a reminder, this stuff does not freeze. So make only as much as you can eat in one sitting.
YOU MIGHT ALSO ENJOY:
Clean Eating Banana Mango Soft
Serve Ice Cream
(Makes approximately 4 cups)
Ingredients:
5 bananas – sliced and frozen
1 ripe, fresh mango
1/4 cup pecans – chopped + a little extra to sprinkle on top
Directions:
Place all ingredients in a food processor or blender and blend until smooth.
If it turns out to liquidy, simply add more frozen bananas. If it's to stiff, add a bit more fresh mango, or even a splash of light coconut milk for a truly tropical flare.
NOTE: This makes a lot of ice cream. This ice cream CANNOT be frozen after it is made. It turns into a yucky mess if you try to freeze it. So cut the recipe in half or into quarters if needed. Trust me. You won't want to waste this stuff!
Nutritional Content:
(Data is for 1/2 cup)
Calories: 107
Total Fat: 3 gm
Saturated Fats: 0 gm
Trans Fats: 0 gm
Cholesterol: 0 mg
Sodium: 1 mg
Carbohydrates: 22 gm
Dietary fiber: 3 gm
Sugars: 13 gm
Protein: 1 gm
Estimated Glycemic Load: 7
Please Note: Nutritional information estimated at Nutritiondata.com. Data may not be accurate and is subject to the availability of specific foods in their database. Where one ingredient is not listed, substitutions must be used. Therefore, you should not refer to this data as being exact. It's more of a ballpark figure. The Gracious Pantry does not take responsibility for the inadequacies of the nutrition calculator used. This data is provided as a courtesy and general reference only. It is not exact.