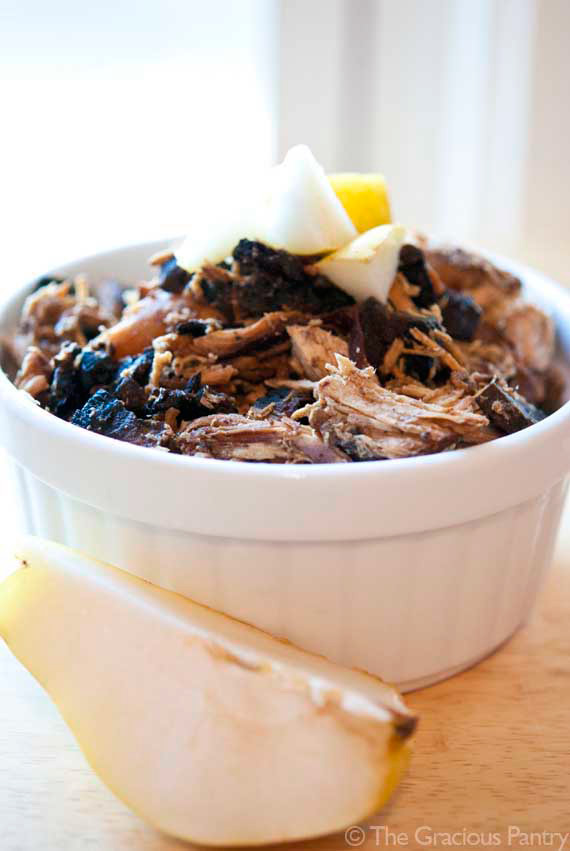 I'm not exactly sure how the idea for this combination came to me, but I'm sure glad it did.
I was having a rough day and badly needed something I could just toss together. But nothing, and I do mean nothing, was ready to eat in my kitchen. This was a disaster of epic proportions. Especially for a clean eater! What happened to always being prepared? What happened to having tubs of ready-cut veggies in the fridge? What happened to having fruit at the ready?
Well, okay… so I had fruit. I had pears, obviously. But when you're hungry and you need a main meal to put on the table, pears just ain't gonna cut it. So this is what I came up with.
YOU MIGHT ALSO ENJOY:

Clean Eating Balsamic Pear And Portobello Mushroom Slow Cooker Chicken
(Makes 4 servings)
Ingredients:
2 raw, large chicken breasts (about 7 ounces each)
1 medium pear, cored and sliced thin
1/4 pound portobello mushrooms, sliced or chopped
1/4 cup balsamic vinegar
Directions:
Place all ingredients in slow cooker and cook on low for 4-6 hours, or until the chicken easily falls apart when stirred.