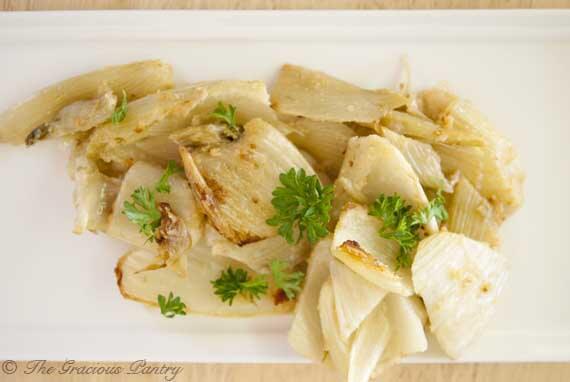 If you've never tried fennel before, now is the time to start.
It's the most amazing stuff! It's mild, sweet and just downright delicious with just about anything. Pair this with any meat or even rice or pasta. You just can't go wrong with this one.
And no, it doesn't taste like licorice. Once it's baked, it's amazing. Did I mention it's amazing stuff?
Now go get some and try this!
YOU MIGHT ALSO ENJOY:

Clean Eating Baked Parmesan Fennel
(Makes approximately 6 servings)
Ingredients:
6 fennel bulbs, top stalks removed
2 tablespoons olive oil
1 tablespoon garlic powder
1 tablespoon onion powder
1/4 cup grated parmesan cheese
Fresh parsley for garnish (don't skip it, it's yummy!)
Directions:
Preheat oven to 350 F.
Remove the top stalks and greenage from the fennel bulbs, slice off the very bottoms and cut the bulbs in half lengthwise.
Remove the inner triangular core (it's just like a cabbage you've cut in half).
If the bulbs are very large, cut the rest into smaller, bite-sized pieces.
Place the bulbs in a plastic bag with the rest of the ingredients and shake well to coat the fennel in the oil and spices.
Pour the fennel out into a large baking dish and bake for 45 minutes to 1 hour, or until the fennel is nice and soft.
Allow to cool slightly and serve.