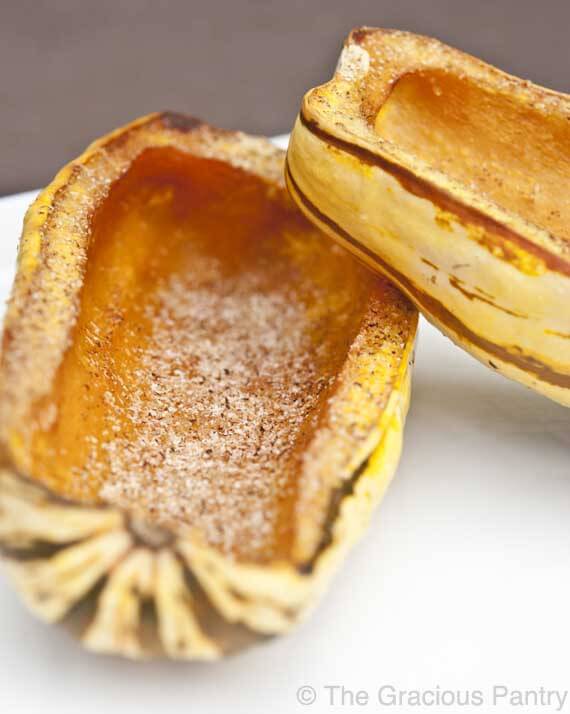 My first time trying delicata squash was the result of a visit to our local pumpkin farm here in Sonoma County. They have a fabulous array of squash for sale along with all their beautiful pumpkins. Mini Chef and I went there numerous times during the weeks prior to Halloween and I marveled at all the different shapes, sizes and colors of their squashes.
I was looking at their butternut squashes when the owner's wife came over and recommended the delicata squash instead. I was feeling brave, so I bought two of them in addition to the butternut squash I was drooling over. (Yes, I drool over squash….)
Admittedly, they sat on my counter for quite some time because I just wasn't sure what to do with them. But I remembered her saying that with delicata, you could keep the flavors very simple. In fact, she recommended baking them with just some oil, salt and pepper.
Knowing that delicata was somewhat similar to butternut in flavor, I added some nutmeg as well. As it turns out, delicata is creamier than butternut in texture and has a tad bit less water in the finished dish. It seems to be a denser squash than butternut, and it was absolutely wonderful. You can bet I'll be buying a few more of these in the future. A fabulous squash indeed.
YOU MIGHT ALSO ENJOY:

Clean Eating Baked Delicata Squash
(Makes 8 servings)
Ingredients:
2 delicata squash
Oil (I used coconut oil)
Garlic powder
Nutmeg
Salt to taste
Directions:
Give your squash a quick, soapy bath to remove any dirt or particles.
Cut open the squash.
Clean out the seeds with a spoon. You can clean these and roast them like pumpkin seeds if you don't want to waste them.
Rub the insides and edges with oil and then sprinkle the spices over them evenly.
Place in a baking dish or on a parchment lined cookie sheet and bake at 350 F. for approximately 30 minutes (times will vary based on size of squash and oven variances). The flesh should be easily pierced with a fork when done.