Clean Eating Artichokes And Dip Recipe
These clean eating artichokes and dip are a delicious addition to dinner tonight!
I was on facebook a few days ago and I mentioned that I had had artichokes with dinner and how proud I was of Mini Chef for learning how to eat them like a pro at such a young age.
Kind of a "non-conversational" type of comment. Or so I thought…
Much to my surprise, many people chimed in. And what caught my attention the most were the people asking how to cook and eat an artichoke!!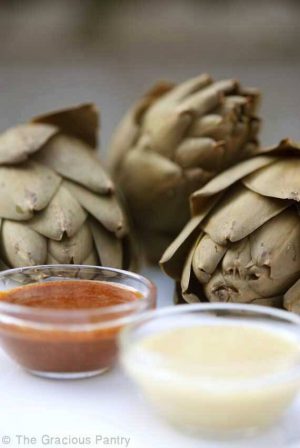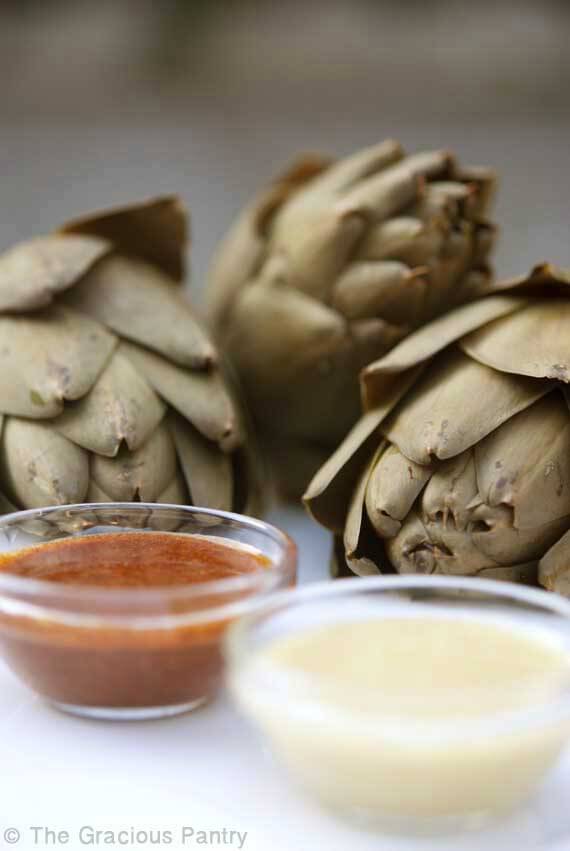 Well, far be it from me to leave anyone in my artichoke dust. I just had to do a blog post on how to cook these wonderful doohickies as well as give you a couple recipes for dipping sauce.
Now I'm sure there are far more "professional" ways to handle an artichoke. But I've never claimed to be a professional chef. I'm just a home cook like most of you reading this. So I'll show you how to handle an artichoke the Gracious Pantry way.
Okie dokie artichokie?
Please Note: Eating artichokes is, in one way, similar to eating asparagus. (We all know what effect that has on us later on…) Except with artichokes, you get this slightly altered taste in your mouth. Everything you eat for a short time after has a slightly sweeter taste to it. It's not unpleasant and it's nothing to worry about. Just enjoy it.
Also note: The recipes below are meant to be added to either melted, grass-fed butter or clean eating mayo (store bought or homemade). You can eat them by themselves to reduce fat content, but they are very lemony and "zingy" that way.
YOU MIGHT ALSO ENJOY THIS CLEAN EATING RECIPE:

CLEAN EATING ARTICHOKES AND DIP RECIPE: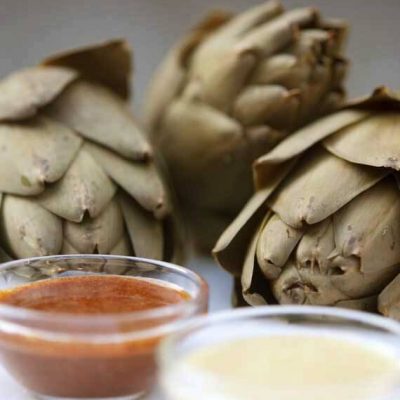 Clean Eating Artichokes And Dip
Two delicious dip recipes go along with these instructions for cooking artichokes. Delicious, filling and so nutritious!
Print
Pin
Rate
Ingredients
4

medium

artichokes

(you can make as many as you like, I used the globe variety)

CHILI DIP INGREDIENTS

1

medium

lemon

(juice only)

1/2

tsp.

chili powder

1 1/2

tsp.

garlic powder

1/4

cup

melted butter

(or clean mayo)

MUSTARD DIP INGREDIENTS:

1 1/2

tsp.

dijon mustard

(no sugar added)

1/2

tsp.

garlic powder

1/4

tsp.

onion powder

1/4

cup

melted butter

(or clean mayo)
Instructions
If you are not used to eating artichokes or have kids who will be eating them, it's probably best to snip off the stickers at the top of the leaves. This is not necessary however.

Trim 1/4 to 1/2 inch off the bottoms. Trim as little as possible because the stems are one of the tastiest parts!

Place the artichokes in a pot that is large enough to hold them all, but small enough to keep them standing upright while they cook. Put enough water in the pot so that it comes up about 1/4 to 1/2 way up the artichokes.

Put a lid on the pot and boil them for approximately 20-30 minutes, or until they are soft. You should be able to stick a knife entirely through with little resistance. (I use a chopstick)

While the artichokes cook, prepare your dip of choice by mixing together all the specified ingredients in a small mixing bowl.

Drain off any water and place the artichokes on a plate. Serve with dip.

TO EAT:

Pull off a leaf, dip the wide end (the part that was attached) into the sauce, and scrape the flesh off the inside of the leaf with your teeth. Do not bite in to this like an apple. You want to SCRAPE the meat off the fibrous, inside part of the leaf. You will only get meat off the first 1/4 -1/2 of the leaf. The closer you get to the inside of the artichoke, the more tender the leaves will become.

Once you have most of the leaves off, you will be left with very small leaves and the stem. Remove those last tiny leaves completely by pinching them all together and pulling them off (You can eat them, certainly). On top of the stem will be a "furry" section. You must scoop this out with a spoon. YOU DO NOT WANT TO EAT THE FUZZY PART!! Those little hairs will stick in your throat like fiberglass. So scoop them out and discard them, making sure to scrape any small strands left behind off with the edge of your spoon. You will be left with the best part of the artichoke! The bottom center of the flower, also known as the heart. Dip this in the sauce and enjoy. Discard the remainder of the stem.

Notes
Please note that the nutrition data below is a ballpark figure. Exact data is not possible.
Nutrition
Serving:
1
artichoke and 1 tbsp. of each dip
|
Calories:
275
kcal
|
Carbohydrates:
15
g
|
Protein:
5
g
|
Fat:
23
g
|
Saturated Fat:
14
g
|
Cholesterol:
61
mg
|
Sodium:
355
mg
|
Potassium:
507
mg
|
Fiber:
7
g
|
Sugar:
1
g
|
Vitamin A:
910
IU
|
Vitamin C:
15
mg
|
Calcium:
63
mg
|
Iron:
1.9
mg