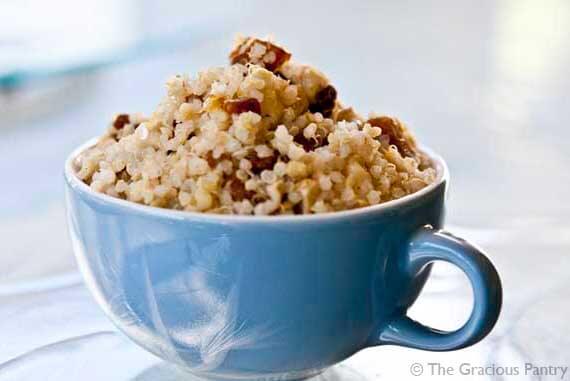 In my short stint as a vegan, I quickly became very reliant on quinoa.
So far as I know, quinoa is a seed that has all 9 amino acids. That means, it's a complete protein all by itself! And I do believe it is the only "grain" type food that can claim that incredible characteristic.
So far, the quinoa recipes I've made have mostly been savory recipes. So I thought I'd try something with just a hint of sweetness.
What I got was an amazing salad that is slightly sweet from the apricots, but still goes well with almost any savory meal. Especially BBQ'd meats. I served this salad with BBQ'd portobello lemon mushroom burgers (recipe coming soon), and it was a complete hit. My mother-in-law called it, "refreshing".
YOU MIGHT ALSO ENJOY:

Clean Eating Apricot Ginger Quinoa With Cashews
(Makes approximately 10 servings)
Ingredients:
4 cups cooked quinoa, cooled to room temperature
1 cup dried apricots, chopped
1/2 cup cashews, chopped
2 tablespoons lemon juice
Zest of 1 lemon
1/4 teaspoon sea salt
1-1/2 teaspoon ground ginger
Directions:
Mix all ingredients together in a medium mixing bowl, and serve at room temperature.