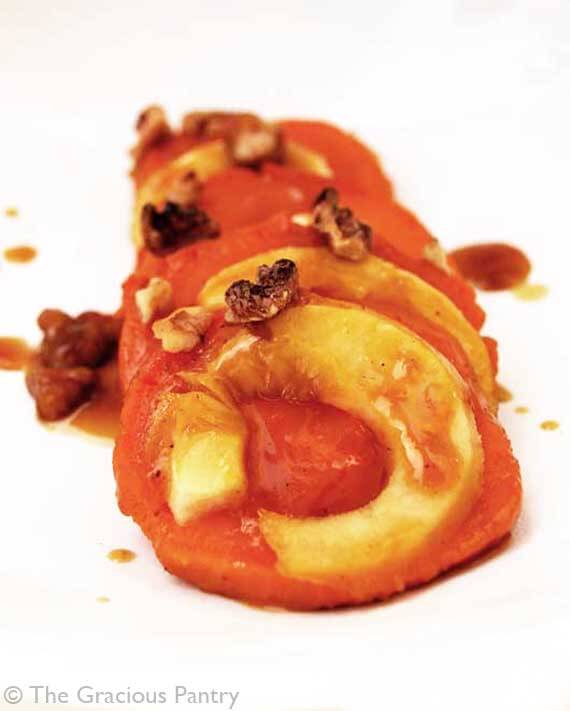 If you follow this blog with any regularity, you know I've been involved with a project over at Elvis International Magazine. They asked me to make a couple of recipes that were the King's favorites and photograph them for the magazine.
Aside from being tickled pink at the very idea of being "involved with Elvis" ~blushing~, I was ecstatic at the idea of converting some Elvis favorites into clean eating meals. This one, was a breeze!
Clean Eating Apples And Yams
(Makes 8 servings)
Ingredients:
2 very large yams, sliced about 1/4 inch thick
2 apples, sliced about 1/4 inch thick
1 tablespoon molasses
2 tablespoons honey
1/4 teaspoon ground cloves
2 teaspoon corn starch
1/2 cup prepared orange juice, no added sugar
2 tablespoons walnuts – chopped
Directions:
Preheat oven to 375 degrees F.
Boil your yams with the skins on for about 40 minutes. Remove from water and allow to cool.
Peel your yams and your apples. Remove the core as well. If you have an apple peeler, all the better as it will do both jobs at once!
Slice your yams and apples about 1/4 inch thick.
Spray a casserole dish with a light coat of olive oil. Then, layer your apples and yams in rows.
In a sauce pot, combine your remaining ingredients (except the walnuts) using a whisk. Be sure to dissolve your corn starch so you don't have any clumps. Heat as you whisk until the sauce is nice and thick.
Pour sauce over yams and apples and top with walnuts.
Bake for about 20 minutes.
Nutritional Content:
(Data is for 1/8 of total recipe)
Calories: 275
Total Fat: 2 gm
Saturated Fats: 0 gm
Trans Fats: 0 gm
Cholesterol: 0 gm
Sodium: 17 mg
Carbohydrates: 64 gm
Dietary fiber: 8 gm
Sugars: 13 gm
Protein: 3 gm
Estimated Glycemic Load: 27
Please Note: Nutritional information estimated at Nutritiondata.com. Data may not be accurate and is subject to the availability of specific foods in their database. Where one ingredient is not listed, substitutions must be used. Therefore, you should not refer to this data as being exact. It's more of a ballpark figure. The Gracious Pantry does not take responsibility for the inadequacies of the nutrition calculator used. This data is provided as a courtesy and general reference only. It is not exact.