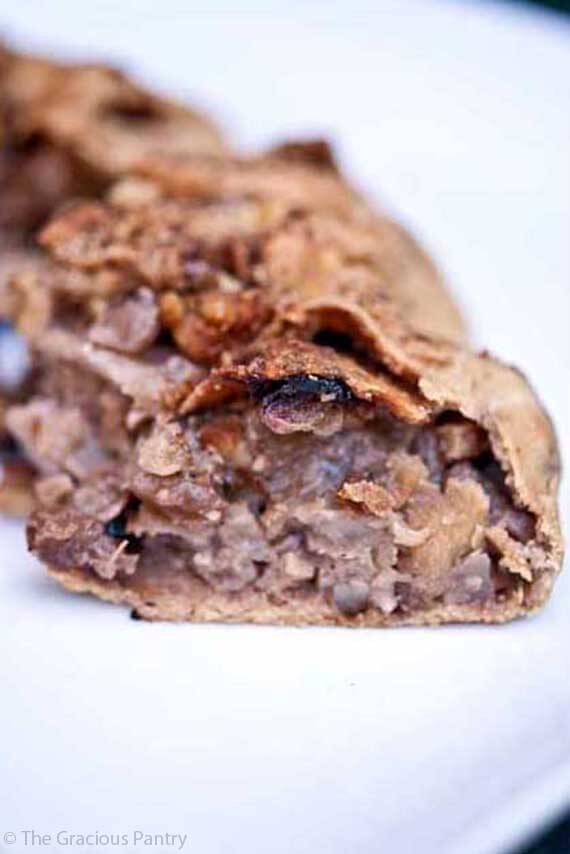 A Facebook fan sent me a link to a recipe that she was hoping I could convert. I just couldn't resist. I mean, I am German after all, and I've never made a Strudel. So it was high time I made the attempt!
I figured this would be a perfect recipe for my son to help me with. But we had to run to the store for one of the ingredients first. On the way, I was talking to him about how he was going to help me bake a Strudel.
He thought about this in complete silence for about 2 minutes. Then, in his cute little 2-year-old voice he says, "No Mama, I'm a big boy. I'm not a Noodle".
I nearly drove off the road.
Eventually, we made it home safely and got right to work. He peeled the apples and kneaded the dough. He's an amazing little helper for his young age! In fact, the photo above is the very Strudel he helped me with.
And I have to tell you, the "Noodle" turned out really yummy! It's one of those desserts that has just a hint of natural sweetness. Nothing too overpowering. A really nice, light ending to any meal.
Please note: As I've never made a Strudel before, my Strudel making skills are not well honed. Therefore, this instantly became an "Open Faced" Apple Strudel. And Frankly, I think it would be so much easier if all Strudels were made this way. Just sayin….

Clean Eating Apple Strudel
(Makes 8 servings)
Dough Ingredients:
1-1/3 cup whole wheat pastry flour
1/8 teaspoon sea salt
8 tablespoons water
1 tablespoon safflower oil (any light flavored oil will do)
1/2 teaspoons regular white vinegar
Filling Ingredients:
Note: This makes enough for 2 Strudels – Double the dough recipe to use it all.
2 pounds apples (these should have good flavor) – peeled, sliced thin and cut into bite-sized pieces
1-1/4 cups chopped walnuts (+ 1/4 cup minced walnuts for topping your Strudel)
1/4 cup honey
1 teaspoon molasses
4 tablespoons golden raisins (if you can't find these, regular raisins will work too)
1/4 teaspoon cinnamon (+ a little to sprinkle on top of the Strudel)
Directions:
Preheat oven to 350 degrees F.
Blend all dough ingredients in a large mixing bowl and knead well. You should have a nice soft dough when you are done.
In a separate large mixing bowl, blend all your filling ingredients.
On a large piece of parchment paper, roll out your dough until it's extremely thin. Paper thin. The thinner the better. Did I mention it should be rolled thin?
Pour your filling into the center of the dough and use the parchment paper to roll it up over the filling. If you only made one batch of dough, it probably won't cover the top portion of the filling. (Hence, the Open Faced Strudel!)
Brush with oil using a basting brush, sprinkle on the minced walnuts and sprinkle with cinnamon.
Bake for approximately 50 minutes.