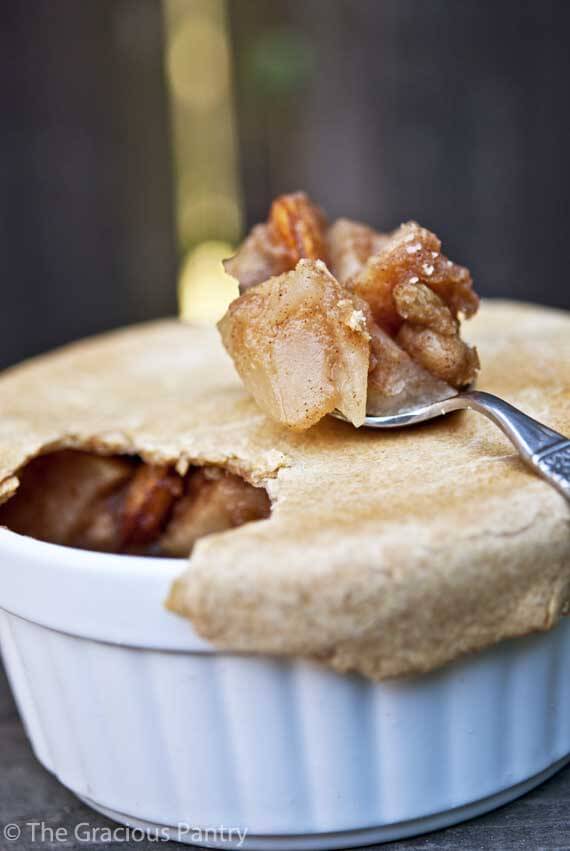 This recipe came about by accident. I had been making some apple cobbler, and had some extra apples and extra dough left over. I wanted to try something different, so I just tossed some ingredients together and put them in the oven. What I got, was one of my best desserts. If you love apples, don't pass this recipe by. It will be a family favorite for years to come!
PLEASE NOTE: The filling ingredients will make one pot pie, but the crust ingredients will make more than one pot pie, depending on how thick you role it. You may want to have some extra filling ingredients handy in case you have left over dough.
YOU MIGHT ALSO ENJOY:
Clean Eating Apple Pot Pie
(Makes 1 pot pie)
Filling Ingredients:
1 apple
2 tablespoons golden raisins
1 teaspoon ground cinnamon
1/2 cup unsweetened apple sauce
Crust Ingredients:
1 1/2 cups whole wheat pastry flour
1/8 teaspoon salt
1/4 cup safflower oil
1/4 cup milk or soy milk, or almond milk
2 tablespoons honey
1/2 teaspoon vanilla
Directions:
Preheat oven to 350 degrees F.
Mix all filling ingredients in a mixing bowl, and transfer to a baking dish.
In a large mixing bowl, mix together all the crust ingredients until you have a nice soft yet firm dough.
Roll dough to about 1/4 inch thickness, and cut to size.
Top dish with dough, and secure the dough around the edges. Use a knife to cut off excess dough.
Place baking dish on a cookie sheet and put the cookie sheet in the oven.
Bake for approximately 30-45 minutes, or until a toothpick inserted into the pie, meets no resistance from the apples. (The apples should be soft).
As with all desserts, please eat sparingly.
Nutritional Content:
(Data is for 1/2 pot pie – Based on using 1/4 of the dough recipe)
Calories: 304
Total Fat: 8 gm
Saturated Fats: 1 gm
Trans Fats: 0 gm
Cholesterol: 0 mg
Sodium: 155 mg
Carbohydrates: 61 gm
Dietary fiber: 8 gm
Sugars: 34 gm
Protein: 5 gm
Estimated Glycemic Load: 24
Please Note: Nutritional information estimated at Nutritiondata.com. Data may not be accurate and is subject to the availability of specific foods in their database. Where one ingredient is not listed, substitutions must be used. Therefore, you should not refer to this data as being exact. It's more of a ballpark figure. The Gracious Pantry does not take responsibility for the inadequacies of the nutrition calculator used. This data is provided as a courtesy and general reference only. It is not exact.