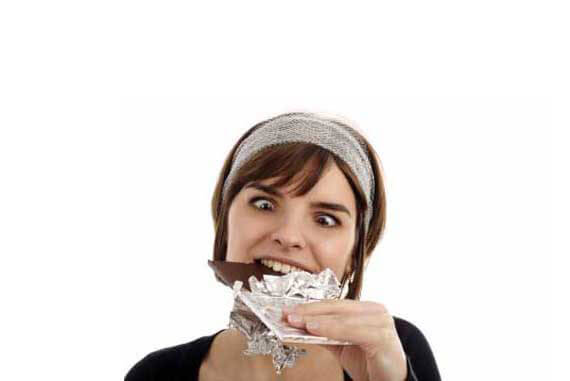 I would like to start off my saying that I do realize there are men who read my blog. So I will extend my apologies for this momentary lapse in gender neutral topics.  Things will be back to normal here shortly.
But you see, this is a topic very near and dear to my heart.
Every month, I have one week where I have completely uncontrollable cravings.  Its doesn't seem to matter what I do, or eat, or entertain myself with, I cannot get my PMS cravings off my mind until I finally give in and satisfy them.
Nothing, and I do mean NOTHING, will satisfy my relentless quest for sweets and carbs except for sweets and carbs during this time of the month.
So I started to wonder if it was just me, or do others also suffer with this clean eating dilemma every month? If so, how do other women handle this bothersome issue?
I interviewed the following clean eating ladies:
Their responses to my questions were practically polar opposites, and yet, each point of view had some remarkably helpful advice.
As it turns out, there are typically 3 different types of cravings.
Specific Textures
Specific flavors
Specific foods
Alyson had some really interesting advice that I had never before considered:
"If bingeing and cravings are a regular occurrences, there is probably another reason for it that may or may not be related to your diet. Perhaps you're not getting enough healthy fats or certain vitamins/minerals. Maybe it's due to lack of activity or boredom. Look at the issues behind the cravings & binges, because resolving those issues will result in a happier & healthier you!"

(You can read more on how she does this in the "nutrition" section of this wonderful blog post she wrote,
– Click here)
Emily offered this very helpful advice for taming the craving tiger:
"To curb a sweet craving:

Dark chocolate or cocoa nibs instead of milk chocolate
Freeze a yogurt cup (mixed with real fruit or small amount of dark chocolate chips) with a Popsicle stick in it for yummy "ice creamy" treat
Make hot chocolate (8 oz skim/soy milk warmed mixed with 2 tbsp dark cocoa powder & sweetened with honey or sweetener of choice)

To cure a salty craving:

Whole grain pretzels with 1 tbsp of your favorite nut butter
"Grainy" crackers spread with light cheese
Plain popcorn topped with sea salt or nutritional yeast"
Janetha, bless her heart. I love this girl. She doesn't get PMS cravings at all, but she still indulges in any craving she has… one time per week. She sets aside one day where she can eat anything she wants, and the rest of the week, she stays on track knowing that if she's craving something, she can have it when that "free day" rolls around.
"Write down the craving, drink a big glass of water and think about the craving some more. Usually it passes without a problem.

And…
Don't restrict yourself 100% of the time. We are all human and we all need to give into our cravings or we will go crazy!"
Truer words were never spoken.
Thanks for the fabulous input ladies! Maybe this month will go a little smoother…
And who knows. Guys get cravings too. Maybe this advice isn't so gender specific after all!
Article is an original work and is © Tiffany McCauley. It may not be reproduced for any reason without written permission by the author.