This post may contain affiliate links. Read my
Privacy Policy.
As an Amazon Associate I earn from qualifying purchases.
This 8 day week meal plan will get your through those really long weeks that feel like they have an extra day in them, while still eating healthy!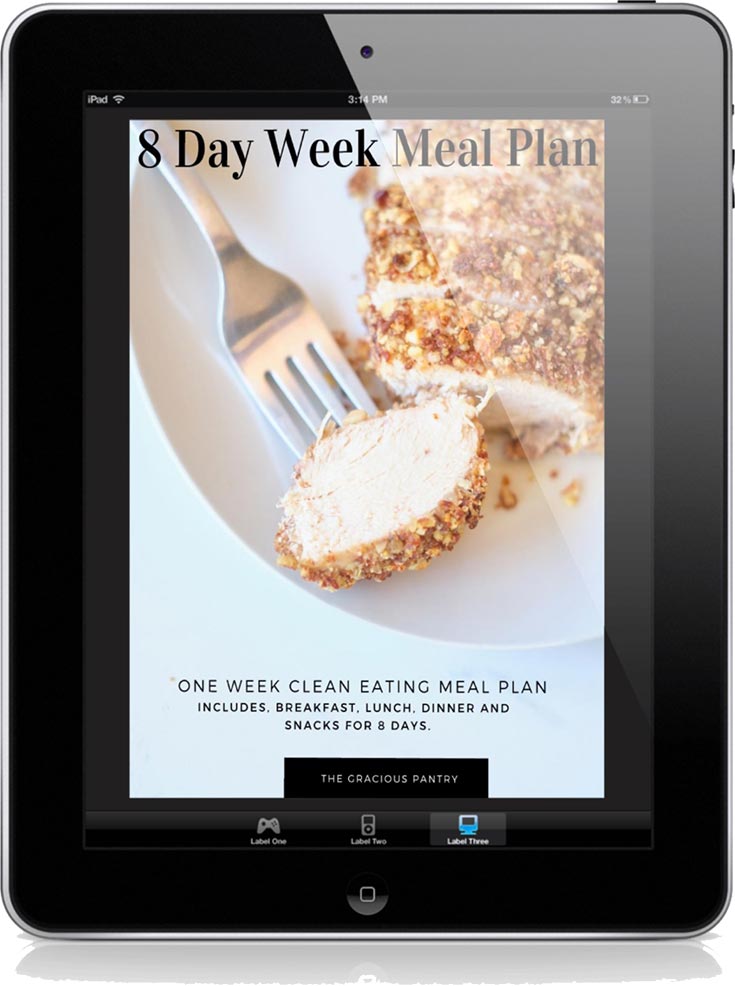 $15.00

8 DAY WEEK MEAL PLAN
Ever feel like you work 8 days a week?
I know some weeks are like that for me. And now, I've created a clean eating meal plan for just such a week!
We all want choices in our eating plans and this meal plan was meant to give you just that. More choices! Don't like something on the plan? Swap it out with something from your extra day!
No matter how you use this plan, it's fully adjustable for your own needs. My meal plans are never based on a particular caloric need because everyone needs something different. So instead, I give you lots of choices, while guiding you through your week with plenty of options and possibilities. Follow it exactly, or mix it up completely! Either way, it's a great tool for planning your meals for the week. Even on those weeks when you feel like you've worked an extra day.
CALENDAR VERSION – Free
In this version, I give you an 8 day, calendar-style layout with clickable recipe links. This plan is an outline, it's not written in stone. Make it work for you and your life.
This free download is clickable and will take you to recipes on my web site. You can download it here. Please be sure your device can read pdf files before downloading.
EXTENDED VERSION – $15.00
I created a complete, interchangeable meal plan with everything you need to follow it. It contains everything from. what you need to prep on the weekend to the recipes themselves, are contained in one, handy pdf. file. Please note that in addition to the extended version, you should also download the free version for the complete package. That way, you have ease of use regardless of how you are accessing the plan, both online and on paper if you print this. And again, if any of this feels too much, feel free to simplify.
Here's what you get when you purchase the extended version:
All recipes are included so you don't have to click through. Just print and go!
Prep list for your weekend
A few dessert suggestions
Shopping list
Check out more meal plans here.
SaveSave
SaveSaveSaveSave