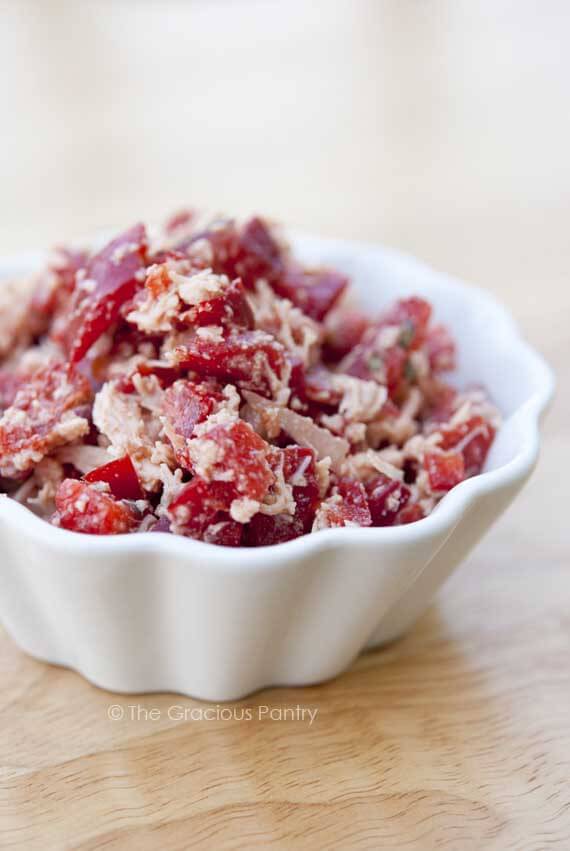 A few days ago, I wrote about tips for eating clean when you just don't have time. In that post, I talked about always having a bottle of clean salad dressing at the ready. This is why…
Recipes like this can be a lifesaver when dinner has to be on the table now, and you haven't even checked to see what you have in the fridge. I served this dish over a bed of spinach and it was a very filling and complete meal.
This idea actually came from a leftover rotisserie chicken I had made a couple nights before. I had to use it up, and this is what I had on hand. You can do this with canned chicken as well if you can find a clean, canned chicken. Trader Joe's has one that is clean. Canned isn't always optimal, but it's always a good idea to have a can or two in the pantry for a last minute meal. It certainly beats the drive thru!
Chicken (I used canned for the photo above)
Whatever veggies you have in your fridge, chopped and mixed with it. ( I used a red bell pepper and red onions, but anything will work here.)
Clean salad dressing (I used clean tarragon dressing)
You could potentially even mix a little brown rice or quinoa with this to get a nice grain salad. There are about a million different things you could do with this, so get creative!
Please Note: Simple Meals are NOT based on any specific caloric needs. They are simply concepts. Use them as they are or build on them. These are NOT recipes, these are simple meal ideas to inspire quick and easy meal times.