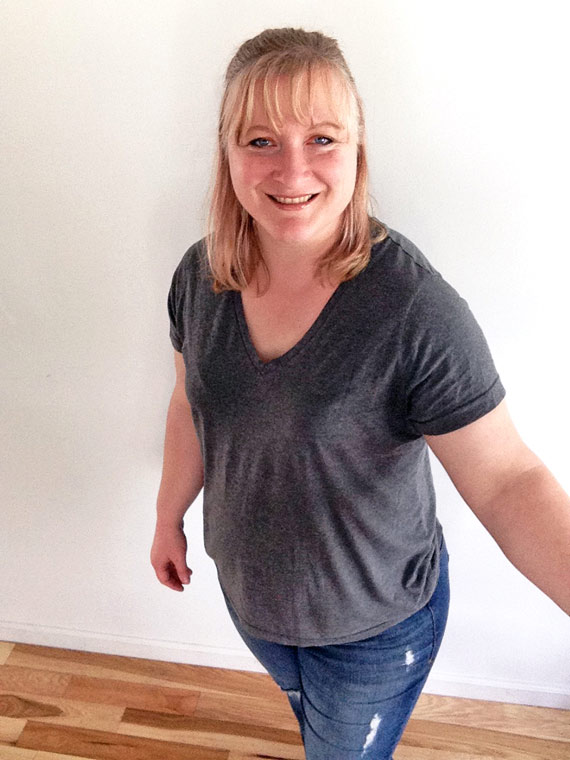 There was a time when my sole purpose with clean eating was to lose weight. But oh, how times have changed.
I'm not a small person. I'm 6 feet tall, and I'm overweight. I'm a large girl in stature/bone structure as well. So basically, I'm just an all-around big girl. This often surprises people, who know me only from this blog, when they see me in person. First I get a look of shock, then disbelief, and then there is that uncomfortable moment when they are trying to figure out how to get away from me as fast as they can because they don't know what to say.
I think people assume that those who blog about health, or a healthier lifestyle, have already reached their goals. But that's not always the case. I'm still very much on the road to better health and that includes still having excess weight on my body. But that doesn't mean that the excess weight makes me who I am, or that I haven't already made huge strides in the health department.
GENERAL BENEFITS
Clean eating has done so very much for me, my health and the health of my family.
It is helping me to push back the onset of type 2 diabetes.
It is helping me control high blood pressure (which runs in my family)
It has helped me fight cancer and keep it at bay.
It has helped me develop a more sane and rational relationship with food. Something I definitely did not have when I started and something that continues to improve every day.
Sharing my journey has connected me with people I never would have met in any other way. People that help me continue down this road to health.
It has helped me get in touch with my own body and what it needs to be healthy. Not something everyone can do, I've learned!
So far, it has helped me raise a healthy child.
It is helping me keep my mom as healthy as possible despite her current health condition.
The lifestyle and people involved in it have inspired me to do better every day.
It has never let me down. No matter how far I have strayed in the past, it was always there for me to come back to and it ALWAYS makes me feel better.
PHYSICAL BENEFITS
But aside from all of that, there are some very real and very physical bonuses to eating clean that have blessed my life.
Clear skin! My skin has never looked this good and it continues to improve all the time.
I don't get that "hit-by-a-truck" feeling after a meal. I eat until I'm full and that's that. (Especially now that I've slowed down the pace of my eating. What a difference that has made!!)
Now that the trauma of 2015 is over, I'm back on track with eating clean and watching my portions. 20 lbs. are gone, just like that, and I can move my body more easily. (Please note the photo above is a fantastic angle. That, and I carry my weight well. You would never guess my weight by looking at my photo here.)
Being able to move more easily means I actually enjoy doing more physical activities. Mini Chef loves our evening walks around the neighborhood. He gets to ride his scooter and I get a decent workout trying to keep up with him.
So while I do understand those blank stares on some level, I always want to say that this girl is making progress against the odds that have come up in her life (there have been so many, many @#$%#!! odds) and I feel pretty darn good about it. You see, it's okay to be en route to your goals. Nobody goes from the starting line to the finish line without going the distance in between. Sometimes we have to remember to give ourselves permission to be on our path, smack-dab in the middle of it.
If you are in the same boat as me, working towards your health goals, I just want to remind you that you are amazing right now and in this moment. Those of you who work tirelessly, day in and day out to get healthier… you are my warriors. My inspiration. My heroes. We can do this simply because we already are doing it, every single day. Not having reached our goals yet does not lessen those goals or how far we've come. We all have to start somewhere. And while it may take me a bit longer to reach my weight goal, I'm totally happy with the progress I've already made and the goals I've already reached.
Because in the end, no matter what other's think or say, the only thing that truly matters is the progress that YOU see in your own life. The goals you set and reach and the milestones along the way. Hang on to those when people try to drag you down. Because honestly, they only try because they see you doing something different, something for the better, and that makes them uncomfortable. So let them go down their own paths and learn their own lessons. Be true to you and the goals you have set for yourself. Nobody can achieve them for you, and nobody can feel the level of pride you do when you reach those goals.
And when you do, trust me. Those folks who gave you a hard time will be the very ones coming to you for advice. That's the main reason I have stopped posting about my weight loss progress on Facebook. Every time I do, everyone wants to know how I've done it, like I have some secret to making progress that the rest of the world does not. All I can do is point them to this blog and say, "I hope this helps". We all have our own path to travel for good health. We can't copy somebody else. We can take general direction, but we need to find what works for us individually. That's not to say that I won't share my story when I reach my goal, but what works for me, may not work for you. So be brave, discover yourself, find what works for your own body, and pay no attention to the naysayers. Your opinion of yourself is the only one that matters, and frankly, you rock.