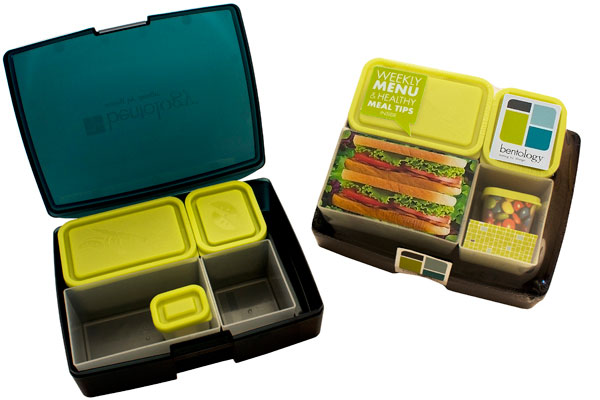 If you've never heard of Bentology (affiliate link), you've been missing out! I so strongly believe in this company and what they represent. I just love them to pieces!!! And no, they didn't pay me to say that. I use their lunch boxes for Mini Chef all the time.
These perfectly portioned boxes encourage variety as well as portion control. It's a great way to help Mini Chef learn what a proper portion size is as well as encouraging him to get creative in what he packs for his lunch!
And yes, I said what HE packs for his lunch. This year, he'll be packing his own lunches (with a little help at first, of course). I read an article recently that made me realize what a wonderful time management tool packing a lunch can be! It teaches kids from a young age to consider, not only their good nutrition, but the time management needed to get a lunch packed every day. A very valuable set of skills if you ask me!
So I've teamed up with Bentology to do a weekly giveaway all this month! The company is offering 3 lunch boxes and 1 thermos. Be sure to come back each week to enter for a chance to win! All lunch boxes are lead, phthalate, BPA and PVC free.
If you can't wait to see if you've won, you can purchase a lunch box, lunch set or thermos here (affiliate link). Use discount code "Gracious10" from now until 9/30/16 for a 10% discount for The Gracious Pantry readers!
I know you will love this and the portions are great for adults too!!!
RULES:
Contest open to US residents only.
You must be 18 to enter.
Prize: 1 lunch box (does not include carrying case) – Winner may choose color from this page (affiliate link)