Like it or not, it's time to start thinking about the kids heading back to school. While most of us still have a little time left before this happens, planning ahead and getting everything in order before it all begins is often a lengthy process.
The biggest issue for me, as well as for many parents, is figuring out day after day for an entire school year, what to pack in their child's lunch box. Even the kids can get a little bored with lunch when mom loses inspiration in the lunch packing department. But it doesn't have to be that way.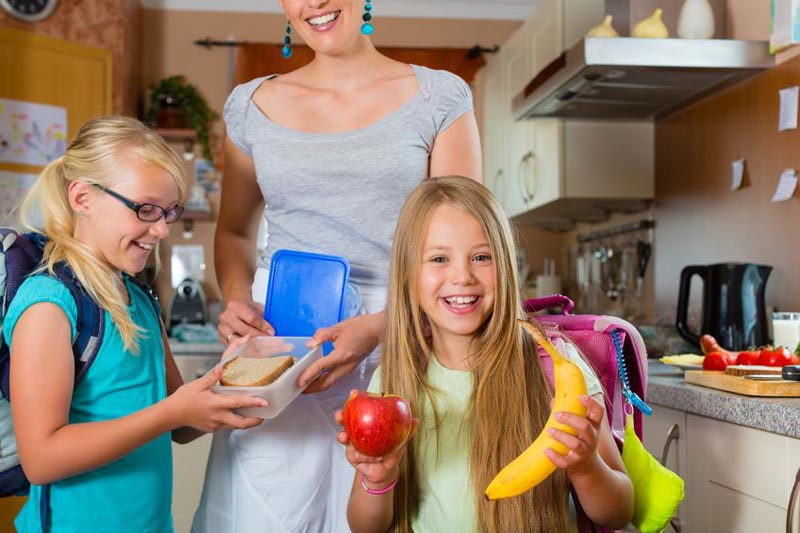 5 TIPS FOR KEEPING PACKING A CLEAN EATING LUNCH THE KIDS WILL LOVE
1. Get the kids into the kitchen and let them help pack their own lunches!
Nothing is more frustrating than opening your child's lunch box and seeing warm, no-longer-edible food that now needs to be thrown away because the kids didn't eat it at lunch. Getting your kids involved with packing their own lunches is a fabulous way to not only instill the responsibility of packing a lunch every day, but  also to cut down on packing things they aren't going to eat.
Have your kids choose their own lunchbox when the time comes to buy one. It's often a big deal to have just the right lunch box.
Teach your kids about macro nutrients. Show them how to choose foods from eat macro to include in their lunch boxes. A good balance of carbs, proteins and fat along with plenty of water will get them through the day with plenty of brain power. So help them learn what foods belong to which macro nutrient category. And don't forget to download this free planner! Simply make a list of your kid's favorite foods for each macronutrient. It'll make is so much easier to pack a balanced lunch they will eat!!
And if you really want to go the extra mile, include a personalized note in their lunchbox!
2. Kid food should be fun food!
Let's face it, a kid is far more likely to eat a sushi roll if it's shaped like a panda. And while not many of us have time to get that fancy, there are some quick things you can do to make lunch a bit more entertaining.
Cut your kid's sandwiches with cookie cutters. Amazon has some fun cutters specifically for this that are shaped like puzzle pieces!
Go smaller with miniature sandwiches using clean, whole grain slider buns or mini soft pretzels or prepare mini muffins. Kid's love eating tiny food and it doesn't have to be time consuming to get it that way.
Choose colorful fruits and veggies, and include dips like homemade ranch, fruit salsa, peanut butter or hummus for the veggies and peanut butter fruit dip for the fruit. (Unless your school has a no-peanut policy, of course!)
Give them a lunch to assemble on site! Pack an English muffin, marinara pizza sauce, cheese and different veggies for pizza, or pack clean tortillas, beans, cheese and salsa for tacos. Food they have to assemble themselves with topping or additions they love will keep them busy and focused on finishing lunch.
3. Keep things new and always changing!
You don't have to get too exotic with this. Just encourage your kids to select one new thing to try from the produce department when you go shopping. They are far more likely to try something they picked themselves and it gives you the opportunity to easily keep their lunches interesting.
4. In a pinch, leftovers are your friend!
Turn leftovers into a new dish. Take leftover cooked pasta from last night, and add some salad dressing and a few chopped veggies to make a quick pasta salad. Combine leftover cooked meat with veggies in a clean, whole grain wrap. And don't forget some dip!
5. Food safety is vital.
Harmful bacteria multiply rapidly in the "danger zone" (between 40 and 140°F). Make sure you have some ice packs on hand for cold foods such as sandwiches and a thermos for hot foods such as soups and stews. Avoiding a kid with food poisoning is pretty high on the important scale. So make sure those foods are packed well!