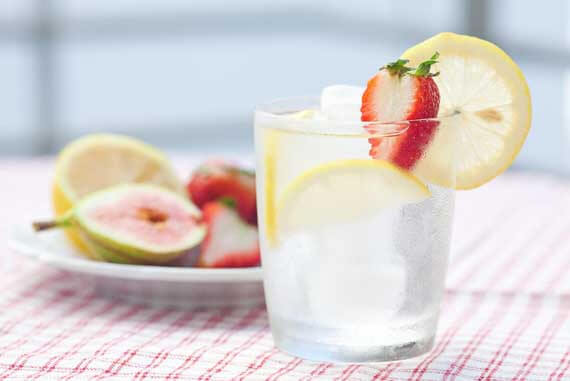 Many people struggle with drinking enough water every day. And now that it's summer, it's more important than ever to stay hydrated.
But even in this heat, it can still be a chore for some folks to make sure they are getting enough H2O. And then there are those who say they don't like water at all. ~gasp!!~
So I thought I would share a bunch of different ways to enjoy your next glass of "life juice".
I asked my Facebook fans how they like their water and this is what they had to say:
TO A PITCHER OF WATER, ADD ONE OR MORE OF THE FOLLOWING:
(Store overnight in the fridge and enjoy the next day for some of these combos. Others are doable by the glass.)
Lemon wedge
A light splash of green tea
Lime wedge
Orange wedge
A light splash of fruit tea just for flavor
Ice
Lemon oil
Mint oil
Peppermint oil
Grapefruit wedge
Cucumber slices
Lemon/Cucumber/Mint combo
Strawberry slices
Splash of apple juice (no sugar added, 100% juice)
Splash of cranberry juice (juice sweetened)
Ice/Mint/Stevia
Cucumber/lime
Cucumber/lemon
Splash cranberry juice/lemon/orange juice
Lemon/licorice root/honey/mint
Melon wedges
Cucumber/strawberries
Lime/mint leaves/ice
Mango and fresh thyme
Pineapple slices
Raspberry and fresh mint leaves
Watermelon and fresh rosemary sprigs
Blackberry and fresh sage leaves
Made as tea
Bought as sparkling